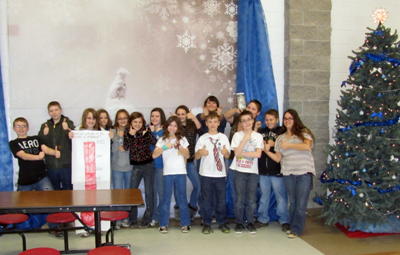 Holding the $414 they raised Ben Frederick, Zach Stout,
Michala Bowen, Kaylee Jarvis, Lylah Smith, Makayla Rainsburg,
Morgan Moneypenney, Myra Farrell, Jordan Basnett, Bradley
Jeffrey, Zane Dye, David Marks, Brennen Ferrell, and Mrs. Hill
Submitted by 6th grade Language Arts
Teacher Stephanie Carpenter and her students
The 5th and 6th grade teachers and students at Calhoun Middle High School did something a little different this year for Christmas.
After much discussion about how to "make a difference," the students decided to try to do just that for a student in a third world country.
Students were shown an informational PowerPoint presentation about the country of Guatemala in which they learned that nearly half of the rural population does not have access to clean water or proper sanitation.
Students were shocked to learn that many of the Guatemalan children do not learn to read and write, and in fact many cannot afford the educational costs as they do not have access to a free public education as children do in the United States.
Sixth grade science teacher, Ruth Hill presented information about the child sponsorship program, Pueblo a Pueblo www.puebloapueblo.org through which Guatemalan children from the Santiago Atitlan Region can have the opportunity to attend school.
A child can be sponsored for $300 for one year. This money will provide the opportunity for the student to be able to attend school, as well as provide books and educational supplies, medical checkups, and nutritious meals.
The students became very excited about helping a child in another country. Even though it seemed a large task, the students decided to donate money to this cause instead of having a gift exchange amongst themselves at school.
They decided that while a small donation of only $3 - $5 per child will buy only a cheap toy for a gift exchange, it could make a real difference in the life of a child in poverty.
Students were encouraged to bring in spare change and to ask their parents and grandparents for a few dollars to donate to this worthy cause. Within just a few days, the goal of $300.00 was reached.
Students surpassed the expectations of their teachers, and in fact, they have extra funds to start an account which will be used to renew the sponsorship of the Guatemalan child next year.
Students and teachers will continue to study and learn more about the country and the people of Guatemala.
Soon after the sponsorship of a child begins, they will be able to exchange letters and pictures with the child they sponsored. 5th and 6th grade students at CMHS will continue with the theme of "Making a Difference" into the new year.