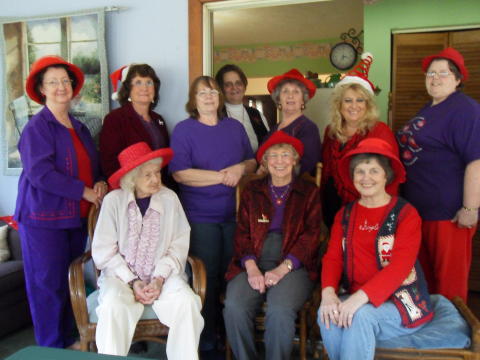 Standing L-R: Juanita Boggs-Saunders, Sharon Knotts, Karen
Badgett, Sherry Brown, Yvonne Church, Marty Park, and Carol
Pritt; Sitting L-R: Dora Starcher, Gae Bailey, and Lorraine
Bailey. Lorraine is wearing a hat given to her by Emma Deel's
son, Leonard. He said she would have wanted her to have it.
By Lorraine Bailey
On Wednesday, December 14th, at noon, the Glamour Girls, local chapter of the Red Hat Society held their Christmas party at the home of Dora Starcher (their Queen Mum). The weather was perfect for their outing. They had pizza, cake (made by Sherry Brown), a cheese ball (made by Marty Park) and crackers, and drinks. They had a great time eating, sharing stories, and playing games (with prizes given). They then had their gift exchanges, card exchanges and cookie exchanges.
Over thirty coats, along with hats and gloves, were taken to the Arnoldsburg School to be passed out. The gals were told that Pleasant Hill School needed about five coats, so those will be purchased and delivered.
They decided on their next get together, possibly eating out and attending a play or show in Spencer, on Thursday, January 19th.