Glenville, WV - Once again, Glenville State College will be represented at the finals of the West Virginia Statewide Colligate Business Plan Competition (WVSCBPC) sponsored by the West Virginia University Entrepreneurship Center.

The WVSCBPC allows students working as individuals or teams the opportunity to submit a business idea to be evaluated by a panel of professors, venture capitalists, experienced entrepreneurs, high-tech industry leaders, CPAs, and business lawyers.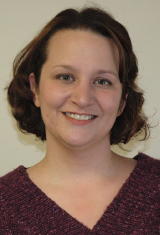 Glenville State College junior Melissa Campos (left), who lives in Calhoun, has been selected as one of five finalists in the WVSCBPC Lifestyles and Innovation category. Five finalists have also been chosen for the Hospitality and Tourism category.
The eventual winner in each category will be awarded $10,000 to help start their business venture as well as accounting, legal, and office space assistance. The finalists were selected from one-hundred and eighteen business plans that were entered in this year's contest.
"I screamed when I received the email that said I was a finalist. I had to double check it to make sure I was reading it right. I have received great support from the GSC Business Department and am confident that I will have a good chance at winning the contest," said Campos.
Campos is a business/marketing major at GSC and submitted a business plan for 'Happy Paws Board and Grooming' which would include services for pet owners that would incorporate agility training, behavior modification, obedience training, grooming, and mobile grooming. She already does pet grooming on a part-time basis.
"We are very proud of Melissa and "Happy Paws" advancing as a finalist in the West Virginia Statewide Student Business Plan Competition. She has represented Glenville State and the entire greater campus community so positively with her entrepreneurial passion; it is infectious.
Glenville State joins WVU and Shepherd as finalists. I think that speaks well for our programs of study," said Cinda Echard GSC Associate Professor of Vocational Business.
Finalists will be attending a weekend workshop in Morgantown, West Virginia January 27-28, 2012 with financial, legal, marketing, and communication professionals. At the conclusion of the workshop, each finalist will receive a stipend of $1,000 to assist with development expenses for their business plan. Each finalist will also be assigned a business professional as a coach to help them complete his or her final business plan and feasibility study which must be submitted by the end of March. All finalists are also eligible for a free three-credit online entrepreneurship course from WVU.
The WVSCBPC finals will take place at West Virginia University April 13-14, 2012.
Campos becomes the sixth GSC student to be selected as a WVSCBPC finalist. Other GSC finalists include: Devon Maher in 2010, Barbara Blankenship in 2009, and Joshua Meadows, Daniel Bush, and Lance Hitt in 2008. Campos is hoping to be the first WVSCBPC winner for GSC.
Campos who lives in Arnoldsburg, is the daughter of Maryann and Manny Campos of Spencer.
For more information on the West Virginia Statewide Collegiate Business Plan Competition, visit the Entrepreneurship Center website at http://www.be.wvu.edu/bpc or contact Director Mindy Walls at mfwalls@mail.wvu.edu or via phone at (304)293-7861.