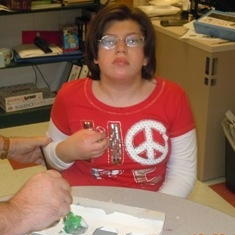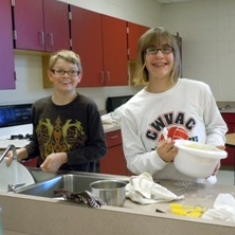 Cassie Barton (left) Chris
Kirkland and Amber Garrett (right)
By April Dawson
Andy Bremar and Sherry Butt's class has been busy this holiday season with a variety of activities at the Middle School, including making decorations for the room, crafting ornaments, and baking cookies.
Students enjoyed making handcrafted Christmas ornaments while laughing and singing to Christmas songs. These special ornaments consisted of clear bulbs with acrylic paint on the inside painted by the students themselves. The colors were amazingly beautiful.
Stocking, Christmas trees, and candy cane ornaments were also made. Each ornament was specially made for the Calhoun Middle-High School staff.
The class, along with Steve Babich's class, made sugar cookies for all to enjoy. Each student participated in the experience from mixing the ingredients, baking, decorating the cookies, and cleaning up the mess.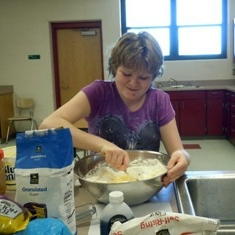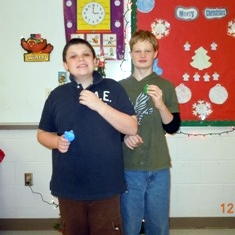 Ashley Rush (far left) Preston
Neely (L) and Cody Collins (R)