An out-of-court settlement has been reached in a civil suit against Trooper Doug Starcher by Grantsville resident Richard Whytsell. Whytsell brought the action when State Police refused to replace the rear window of his car, and the department sustained charges of professional misconduct against the trooper.

The amount of the settlement was not disclosed, although Whytsell said he did not pursue the case for money. He was represented by Grantsville attorney F. John Oshoway.

Trooper Starcher did a traffic stop on Whytsell in December, 1999, throwing a MagLite through his window after witnesses said the officer was "full of rage," in what seemed to be a case of mistaken identity. Whytsell said "I did nothing wrong," but Starcher continued to write citations against him and take him to magistrate court.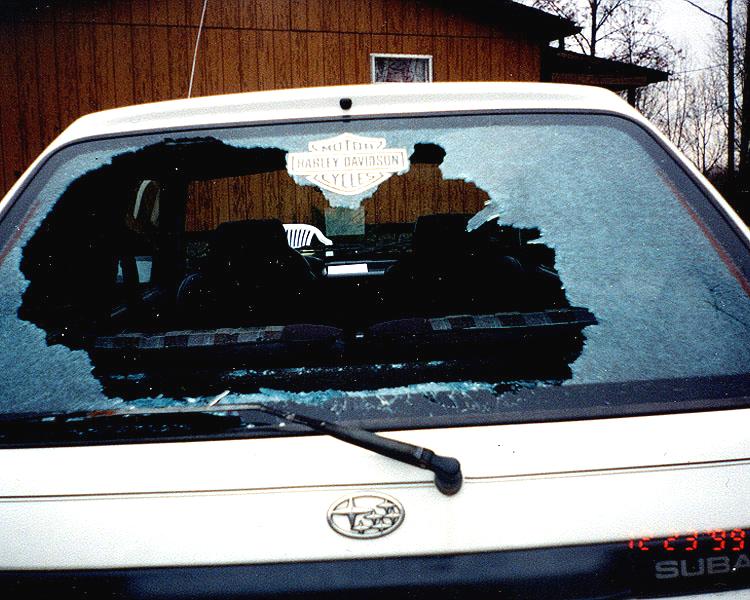 Whytsell Auto Shows Maglite Damage
A witness said Starcher claimed he was parked at the Bethlehem Baptist Church on Route 5 about one mile from Grantsville, when he thought a person in a similar car fired a gun at him.
The officer did not report the incident or radio for assistance as he headed his cruiser toward Grantsville. He stopped Whytsell, who was accompanied by local resident Mitch Stevens. Other witnesses observed the incident at a four-way intersection in Grantsville.
Trooper Starcher's police report made no mention of the MagLite incident or the alleged gunshot. The Whytsell case was not the first incident involving questionable use of a MagLite in the county.
Starcher is embroiled in other situations regarding professional misconduct, most recently allegations he committed perjury in Calhoun Circuit Court.
The West Virginia State Police announced Trooper Starcher has been assigned to the Spencer Detachment.
The Spencer detachment has a new commander Sgt. M. K. Cruikshank. Roane native 1st Sgt. D. E. Fluharty II has been promoted to District Commander, supervising Spencer, Clay, Grantsville and Ripley.