Glenville, WV - Glenville State College Professor of Communication Dennis Wemm has not been teaching classes during the fall semester. Instead, at the request of GSC Provost Dr. John Peek, Wemm has spent the last three months on sabbatical completing a comprehensive study of the operation of other collegiate radio and TV broadcasting programs.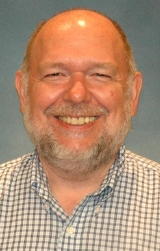 Wemm (pictured left) has traveled to several colleges and universities in West Virginia which have radio and or television stations to gather information about the operations of each facility. He has also been studying their academic offerings in broadcasting.
In September, Wemm attended the annual regional Intercollegiate Broadcasting System (IBS) conference in Chicago, where he spoke to a founding member of the IBS and a recently retired FCC Commissioner. These professionals offered Wemm direct information regarding both the engineering aspects and the legal/regulatory aspects of setting up a college radio station. He also attended the National Communication Association convention in New Orleans in November, where he picked up many pointers and examples of academic and operating practices used by successful college stations.
Glenville State College is in the process of establishing a campus radio and TV station.
The studios are currently under construction on the first floor of the Mollohan Campus Community Center. Broadcasting equipment has been purchased and is being installed in the new studios which will be operational during the spring 2012 semester. At first, broadcasting will be over the internet only allowing time to develop programming, staffing, and complete FCC regulations. Eventually, plans are to have an 'on air' radio station and a cable TV channel.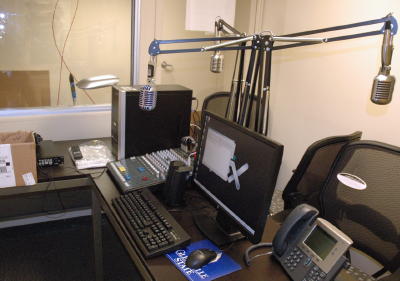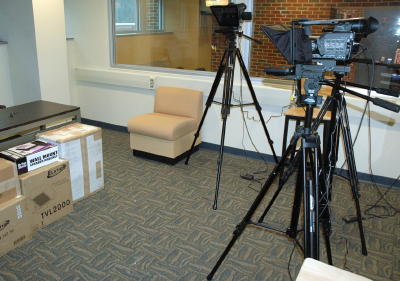 The stations would be used as another extracurricular activity for students and developed into a broadcast journalism major. "My study of collegiate broadcasting has shown that while radio/TV setups don't need to have a course of study to work, the best ones do. So I have been developing an academic major to go along with broadcasting that will also include the other spoken arts of theatre and rhetoric," said Wemm.
GSC currently offers a communication arts minor. Course work under this discipline would roll over into the broadcasting major that will hopefully begin in the spring of 2013.
"The GSC community is ripe for radio/TV service. Broadcasting is fun and would benefit the talents and mindsets of many of our students from all areas of study as well as the local community. My studies have shown that there must be capable leadership and a strict code of ethics and policies for the program to be successful," said Wemm.
Glenville State College previously had a campus radio station. WGSC started broadcasting in the 60s but ceased operation in 1982.
Wemm will be submitting a complete report of his extensive research and plans at the beginning of the 2012 spring semester.
In addition to his research and planning for the GSC radio/TV program, Wemm has also been doing research into digital control for stage lighting, and reinforced this study with the purchase of 32 high efficiency LED lighting instruments for the Presidents Auditorium in the Heflin Administration Building. This will benefit the GSC Theatre Program, which Wemm directs.
He has also maintained his work with the GSC Faculty Senate, the Curriculum Committee, and the HLC accreditation Steering Committee. Wemm will resume his teaching classes in the spring semester.
Wemm earned an Associate of Arts Degree in Drama/Dance from Lakeland Community College (Mentor, OH) in 1975, a Bachelor of Fine Arts Degree in Communication/Theatre from Kent State University in 1977, a Master's of Art in Theatre from the University of Akron in 1979, and a Master's of Fine Arts in Theatre/Performance from the University of Massachusetts at Amherst in 1985.
Professor Wemm and his wife Dr. Nancy Wemm, a full Professor at New River Community and Technical College in Summersville, West Virginia live in Glenville. They have two children; daughter Stephanie and son Alex. Stephanie graduated last December from the Masters program in Psychology at Marshall University, and has just begun her doctoral work at SUNY Albany. Alex, who also graduated last December from Marshall after a years' study in Japan, will soon be entering a Masters program in History.