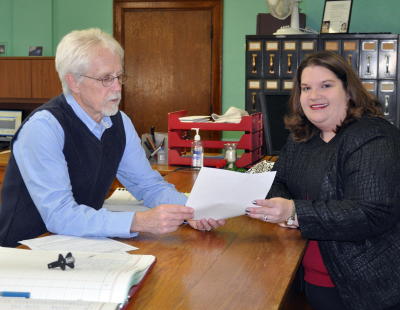 Jones-Johnson files for candidacy
with Calhoun Clerk Mike Ritchie
Shannon Jones Johnson has announced her candidacy for Calhoun County Prosecuting Attorney. Mrs. Johnson filed pre-candidacy papers for the 2012 election with the Calhoun County Clerk on Friday.
Of her bid for election, Mrs. Johnson said, "For years I have contemplated returning home and running for Prosecutor. I'm excited about the possibility of serving the citizens of this fine county. Even though I've spent time away, Calhoun has always and will always be my home."
Mrs. Johnson, a 1995 graduate of Calhoun County High School, attended the WVU College of Law. After her graduation in 2002, she served two years as Law Clerk for Judge John Henning in Elkins, WV.
Mrs. Johnson spent six years as Randolph County Assistant Prosecuting Attorney. During her time in the Prosecutor's Office, Mrs. Johnson handled all the juvenile cases in the county and also focused on the prosecution of crimes against children.
She handled various felony and misdemeanor cases ranging from armed robbery to domestic battery.
Mrs. Johnson was a certified trainer for the West Virginia Prosecuting Attorney's Institute. She assisted with a week long training for fellow prosecutors on driving under the influence cases.
She served on the West Virginia Children's Justice Task Force and taught several workshops around the state for audiences including fellow prosecutors, law enforcement officers, teachers, medical professionals, and social workers.
In 2008, Mrs. Johnson was named the West Virginia Young Lawyer of the Year. In 2009, she attended the National Crimes Against Children Conference in Dallas, TX as a member of the West Virginia delegation.
For the past year, Mrs. Johnson has been in private practice in Beverly, WV. She has also served as Special City Prosecuting Attorney for the City of Elkins.
Mrs. Johnson grew up in Calhoun County, the daughter of the late Randall and Sue Jones, of Mt. Zion. Mrs. Johnson still owns her childhood home and, if elected, plans to return to the county. She is married to Jeremy Johnson, an English teacher and coach.