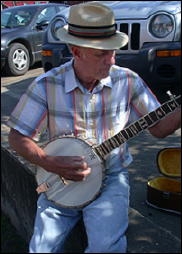 By Mack Samples
www.macksamples.com

The first week of the 2011 buck season was pretty much a washout. In all of my years of deer hunting I have never seen water shoot down the hollers and runs like it did this year. Not only could you not see, you couldn't hear for the water roaring. Yet I stayed dry through it all, thanks to Gore-tex rainwear.

Each time I came back to the house and took off my rain suit, I thought about how hunting clothing had changed since the 50's. In earlier times, deer season did not open Thanksgiving week. It was always in early December. Oftentimes it was bitter cold. I can recall some single digit and zero mornings. There was no insulated underwear, no Carhartts, no hunting boots with Thinsulate or Gore-tex, and certainly no battery heated socks and gloves. We wore long underwear, cotton work pants, and sometimes bibbed overalls as an outer layer. Most gloves during that era were worthless. Your hands were cold in five minutes. Hunting boots were the same way. If you were not on the move, you feet were numb in no time.

Down in my neck of the woods no one went to hunting camps. We just hunted out of the house on property that mostly belonged to our grandpa and his neighbors. We would get out of our own bed, go down and enjoy a good breakfast of biscuits, eggs, and sausage prepared by our mother. The coffee pot worked overtime because everyone had to fill a small thermos before they left the kitchen.

We would step out into the bitter cold and try to button, zip, and snap everything we could to keep the blue northern wind at bay. Usually, cousins would join us in our backyard and we would all light cigarettes and load our guns before moving up the hills. And what about those guns?

There were very few high-powered rifles in our world during that era. My dad had a Winchester .25-.35 saddle gun which was the envy of us all. Just about everyone else packed a shotgun with punk'n balls. There was always a lot of talk about how far we should try for one with the shotguns. It really didn't matter much because none of us ever really got a shot at anything.

The deer were pretty scarce down on the Elk during the 50's and early 60's. I went through several seasons without even seeing a deer, let alone a buck. If someone did jump one there was always high excitement when we met for lunch. If someone actually killed a buck he was the local hero for several weeks.

The deer that we saw were mostly draped across the fenders and hoods of cars as they came down Route 4 on the return trip from the mountain counties where the deer were much more plentiful.

Four-wheel drive pickups were also practically non-existent and no one ever heard of a four wheeler. So we did a lot of walking. We did not have to worry about someone crashing through our hunting area in any kind of a vehicle. I liked that part much better.

My most memorable deer hunting moment was the December morning when it was 8 above when we all left the house. The wind was howling. My dad directed me and a couple of my brothers to some spots on a pipeline right-of-way. He said that he would move around and try to push some toward us. In about two hours I was shivering so bad I would not have been able to shoot if a deer came by. I looked down in the holler and saw smoke drifting up above the treetops. I made my way down to the site and found one of my brothers enjoying a roaring fire. "I'm not going to freeze to death for no damned deer," he said, "regardless of what the old man said."