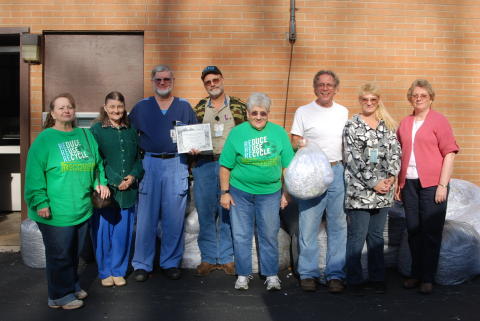 (L-R) Michele Smith, Judy Wolfram, Larry Webster, Larry Springston, Helen Jordan, Rich Rupert, Sheila Jones, Connie Longfellow
Submitted by Tom Degan executive director
for Calhoun County Solid Waste Authority
For the past six years, the Calhoun County Solid Waste Authority has chosen a recycling champion to coincide with America Recycles Day, celebrated this year on November 15th.
The recycling champion this year is the entire staff of Environmental Services at Minnie Hamilton Health Systems, Richard Rupert, Larry Springston, Steve Barr, Casey Staples, Tim McCumbers, and Rusty Richards as well as Connie Longfellow and Sheila Jones of the purchasing department. They all participate in shredding and bringing paper to Cabot Recycling Station.
By recycling its paper, Minnie Hamilton Health Systems is helping fight climate change, avoiding costly disposal fees, and conserving resources. Every ton of paper recycled saves 17 trees and 7,000 gallons of water. The Environmental Services staff recycles a lot of paper which they bring to Cabot Recycling Station by the truckload.
As part of acknowledging Minnie Hamilton Health Systems' significant recycling leadership, the Calhoun County Solid Waste Authority would like to point out that we all benefit from their efforts, which provide for a better tomorrow.
Cabot Recycling Station is located 2 miles west of Grantsville on Rt. 5 and is open to accept recyclables 24 hours a day, seven days a week. Nonferrous metals are purchased on Tuesday, Thursday, and Saturday. Call 304-354-7786 for more information.