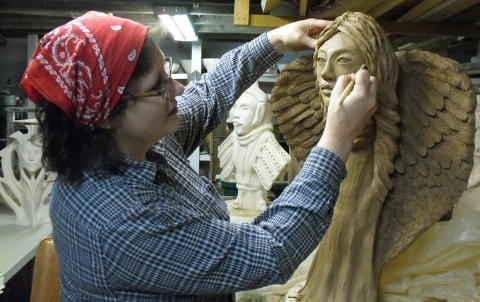 West Virginia sculptor, Cherese Weaver, works on a piece that will
be on display in the GSC Fine Arts Gallery through December 9th
Glenville, WV - Cherese Weaver, a West Virginia sculptor, is being featured in the Glenville State College Fine Arts Gallery. Her exhibit, 'Artifacts,' will be on display through December 9th.
"I'm very excited and honored to have this beautiful space as my first full solo exhibition in West Virginia showcasing my wood-fired sculptures. In my work, I seek to create contemporary artifacts, thus the name of my show and its over-arching theme. The pieces are inspired by the Japanese Jomon period known for textured and free-standing forms. I sculpt from my imagination and my love of history and the divine. I have been influenced by forensic science, ancient cultures, religions, archeology, anthropology, mythology, and the natural world," said Weaver. Many of the sculptures in the show incorporate wood, antlers, bones, and shells to achieve the desired effect.
A resident of Fayette County, Weaver has been working as a ceramic artist for over two decades. She is the owner of the nearly twenty year old Midland Trail Gallery in Lookout, West Virginia (Fayette County), where her studio and work can be found. "We are pleased to have Cherese with us as her career blossoms. Along with her show at GSC, her work can also be found at the Tamarack in Beckley, West Virginia (Raleigh County)," said GSC Major Gifts Officer Dr. Bob Henry Baber.
Her opening reception will take place in the GSC Art Gallery on November 14th from 5:00 p.m. until 7:00 p.m. The show will be open to the public Monday through Friday from 10:00 a.m. to 2:00 p.m. and one hour before all GSC Fine Arts events.
For more information about this event or upcoming art exhibits, contact GSC Professor of Art Liza Brenner at Liza.Brenner@glenville.edu or (304)462-6346.