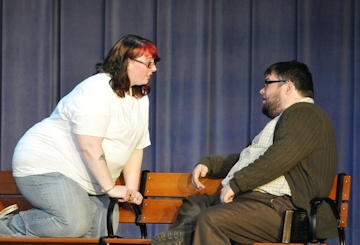 Jamie Stanley, left, carries the role of 'Jerry' the stranger who
unexpectedly enters 'Peter's' life, played by Patrick Montgomery.
By Drew Moody
For the Hur Herald
There is little solace in the dialog.
'At Home at the Zoo' explores the wrenching conflicts of life, perhaps on an average Tuesday.
How do we react to challenge and change?
What barometer do we use to measure the value of relationships? How well do we really know, or want to know, our self and those around us?
A bare-bones set, a two-act play and three actors.
The first act opens in the living room of Ann and Peter. They're married, have children and materially want for nothing.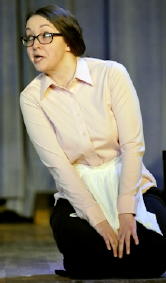 Whitney Stalnaker (pictured left) returns to the GSC stage to play a wife who expresses a certain emptiness over the state of her marriage.
Peter, played by Patrick Montgomery, sits reading on the couch. Ann, played by Whitney Stalnaker, is making dinner off-stage.
She hesitates as she joins her husband, announcing she wants to talk. He doesn't hear her.
Eventually, an awkward discussion begins. Maybe he's bored; or, is he just playing it safe? Does she really yearn for change, or just like the notion of it?
In the second act Peter goes to the park to continue reading, where he encounters a stranger named Jerry, played by Jamie Stanley.
She's strange and rambles lucidly about her life, or seeming lack of it. He has everything she doesn't, yet this woman, for a time, completely captures Peter's attention.
Jerry's claims to be crazy may be accurate or just a fleeting figure of speech?
Edward Albee's play provides plenty of fodder for reflection.
The production is under the direction of Dick Reiss.
'At Home at the Zoo' will be staged three consecutive nights beginning Nov. 9 at 7 p.m. in the GSC administration building auditorium. Due to adult themes and language the play carries an "R" rating.
Glenville State College students pay no admission; for all others tickets are $3.