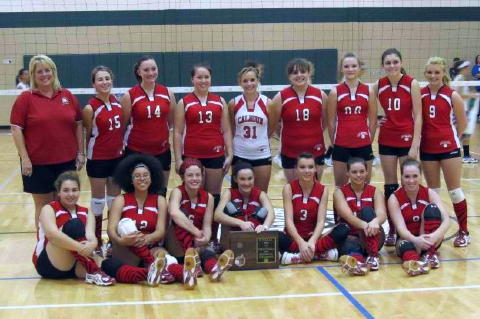 Front (L-R) Katie Rogers, J'Nae Carter, Kenzie Laughlin, Jordan Mace, Amber Wilford, Rochelle Gerwig, Sam Church. Back (L-R) Coach
Kelley Houchin, Kee Kee Demascio, Megan Barton, Kayla Church, Brooke Manns, Chelsea Hicks, Kenzie Hicks, Stephanie Hall, Shayla Arnold (Not pictured, Asst. Coach Katie Martin, Bailie Cain)
Calhoun High School Volleyball team defeated Gilmer County on Saturday, November 5, to claim their second consecutive Regional II Championship.
Earlier in the day, Calhoun defeated East Hardy to qualify for back to back appearances in the the Class A WV State tournament for only the third time in school history.
Calhoun began Sectional play on Tuesday, November 1 at Doddridge County High School. Both the Sectional and Regional Tournament was held at Doddridge.
Tuesday, Calhoun, the number 3 seed, defeated the number six seed, Clarksburg Notre Dame to open tournament play in straight sets 25-7, 25-10, 25-4. Their second match of the night saw Calhoun defeat the the number two seed Trinity Christian 25-20, 15-25, 25-12, 25-17.
Wednesday evening Calhoun was defeated by Gilmer County in the double elimination tournament in straight sets 25-18, 25-21, 25-18.
Thursday evening, Calhoun played an elimination match with Doddridge to advance to the Sectional Championship and defeated Doddridge 25-10, 25-20, 23-25, an 25-20. Calhoun then defeated Gilmer 25-18, 21-25, 13-25, 25-21, and 27-25. As that was Gilmer's first loss of the tournament, Calhoun was then forced to play Gilmer a second match and lost in straight sets 25-17, 25-23, 25-12 to advance to Regionals as Section Runner-ups.
Saturday Calhoun returned to Doddridge to take on the number one seed from the other Section in the Region, East Hardy. Calhoun defeated East Hardy in Straight sets25-17, 26-24, 27-25. Calhoun then Gilmer defeated Gilmer in straight sets 27-25, 25-19, 26-24 to claim the Region Championship.
Calhoun will play the second match in the 8:30 session of the Class A tournament on Friday, November 11, 2011 at the Charleston Civic Center. Calhoun County will play Pocahontas County following the conclusion of the Wirt/Buffalo match.
The team will participate in a walk-thru send off and pep rally at the school beginning at approximately 2:00 on Thursday. The team will present the Regional Trophy at that time.
The team will leave the school at approximately 7:00 a.m. on Friday morning via charter bus. The team asks that anyone wanting to show their support of the team to place signs along the travel route, be at the school Friday morning for send off or along the bus route traveling Route 16 South to Big Otter.
Even though school is closed in observance of Veteran's Day, the school is offering a fan bus. The cost to ride is $15 per student which includes admission ticket. Students must sign up and pay by the end of school on Wednesday to ride the bus.