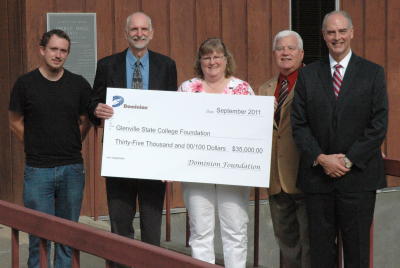 Pictured left to right: Glenville State College Junior Land>BR> Resources Management/Forestry Major Johnny King of Frametown
(Braxton County), West Virginia, GSC Land Resources Department
Chair Dr. Milan Vavrek, Dominion Area Representative Phyllis
Hinterer, GSC Foundation Executive Director Denny Pounds, and
GSC Senior Vice President of External Relations Jim Spears
Glenville, WV - Dominion Resources officials have awarded $35,000 to Glenville State College's prestigious Land Resources Department. Dr. Milan C. Vavrek, Chair of the GSC Land Resources Department, says the money was used to purchase a turbo turf hydro-seeder, a Yamaha Rhino 4x4, environmental assessment meters, and a trailer to transport the equipment. "The generous donation from Dominion has allowed us to purchase these tools so we can expand the hands-on environmental monitoring and restoration experiences that our students receive with technology that is widely used in the industry," said Vavrek.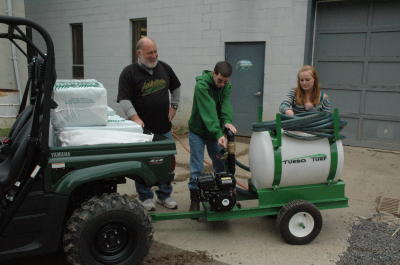 GSC Land Resources Department Academic Teaching Assistant
Thomas Snyder (left) watches as GSC Land Resources students
Junior Jacob Fendly of Elkins (Randolph County), West Virginia
and Senior Brittany McIntosh of Glenville (Gilmer County), West
Virginia prepare the new Turbo Turf hydro-seeder for a test run
The grant was awarded through the Dominion Foundation and will also help Glenville State College Land Resources faculty prepare and enhance student critical thinking and problem solving skills. "Dominion is privileged to support college-level learning. We are particularly interested in funding action-oriented projects that produce results in energy conservation and preservation of the environment," said Virginia M. Board, president of the Dominion Foundation.
Dennis Pounds, Executive Director of the Glenville State College Foundation, said, "This contribution continues a long relationship between Dominion and GSC that has already resulted in several annual scholarships for our natural resources students. The equipment purchased with the funds will improve our students' abilities to learn how to manage our natural resources sustainably."
GSC Land Resources Senior, Taylor Sergent of Nitro, West Virginia, says he and his classmates are benefiting greatly by getting the opportunity to use this new technology before they graduate. "I came to Glenville because of the Land Resources Department and will graduate in May 2012 with a Bachelor of Science Degree in Natural Resources Management with a concentration in Forestry. Because of the comprehensive classroom and hands-on education that I am receiving, I know that I will be better prepared to enter the workforce in my chosen profession. The GSC program is absolutely the best," said Sergent.
Students enrolled in the Glenville State College Land Resources program may choose from concentrations in applied science, business management, criminal justice, environmental science, forest technology, landman technology, and land surveying technology. For more information about the grant and the program, contact Vavrek at Milan.Vavrek@glenville.edu or (304)462-6375.