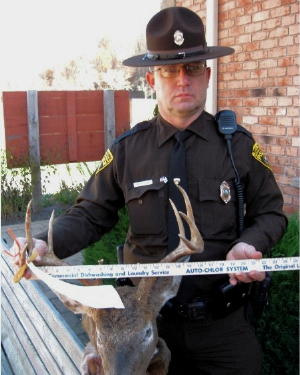 Bridgeport, W.Va. - A 16-year old Bridgeport male has been cited on charges of illegally killing a trophy buck deer while hunting on private property located along Meadowbrook road near Bridgeport, according to West Virginia Division of Natural Resources District 1 Capt. W. A. Persinger.
An investigation began Nov. 4 when Natural Resources Police Sgt. Robert Waybright received information from the owner of a Harrison County taxidermist that a young man had brought in a 10-point buck deer head-neck for mounting.
Sgt. Waybright examined the head and recovered a bullet, indicating, based upon the date of the field tag, the buck was allegedly shot with a rifle prior to deer rifle season for buck deer.
The field tag and deer check tag identified the suspected shooter, and Sgt. Waybright and Natural Resources Police Officer Randall Kocsis arranged a meeting with the youth and family soon after.
During the interview, the suspect claimed to have been hunting from a tree stand and to have killed the buck with a bow and arrow during the archery season, which began Oct. 1.
When confronted with the evidence of the bullet, the youth allegedly admitted to have been participating in Youth Hunting Day, Oct. 29, when he took the buck with his 30/30 rifle from a tree stand.
Only antlerless deer may be taken legally with a rifle during Youth Hunting Day. He also allegedly admitted to checking the deer in as a bow kill before taking it to the taxidermist for mounting.
The juvenile was cited for killing deer during closed season, illegal possession of wildlife, and improper checking of game.
Examination of the deer head/neck determined it to be a 10-point with an antler spread of 15 inches. The replacement fee for a trophy buck of this size is $1,000. The case is pending in Harrison County Magistrate Court, where he may face additional fines and court costs.
All suspects are innocent until proven guilty in a court of law.