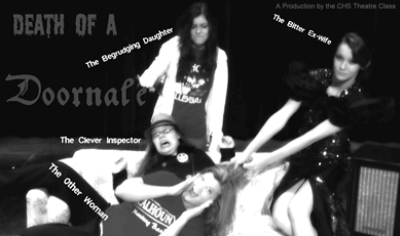 The Calhoun High School theater department presents their first ever dinner theater, "Death of a Doornale" tonight at 5 p.m. in the auditorium.
Audience members will experience two acts of hilarity and murder with a delectable dinner in between.
Tickets are $12 and include the performance and dinner.
Tables will be served by revue cast members so feel free to tip your favorite server.
When Albert Doornale, an eccentric tycoon goes missing, blood is on somebody's hands. You'll experience the clever inspector portrayed by Ali Gumbarevic, the bitter ex-wife portrayed by Amber Wilford, the begrudging daughter portrayed by Stephanie Hall, the other woman portrayed by Sidney Hipp and many other fun filled characters that will keep you entertained all evening.
Come and see who is innocent, who is guilty and who will die.
There will also be a sample of what is to come in the spring with the Red Devil Revue featuring the Vandalias and some vocal solos by Calhoun's most talented students.