The 40th annual Calhoun County Wood Festival opens tomorrow in Grantsville, in what seems to be a better than average event. This year's festival has a number of volunteers, new and old, working on the event, so it promises to be an entertaining and fun-filled weekend.

The Lion's Club carnival is already open with a brand new provider, and the club's bingo stand is open. The Lion's Club is one of the last civic organizations in the county that continues to do outstanding work directly related to helping individuals and the county.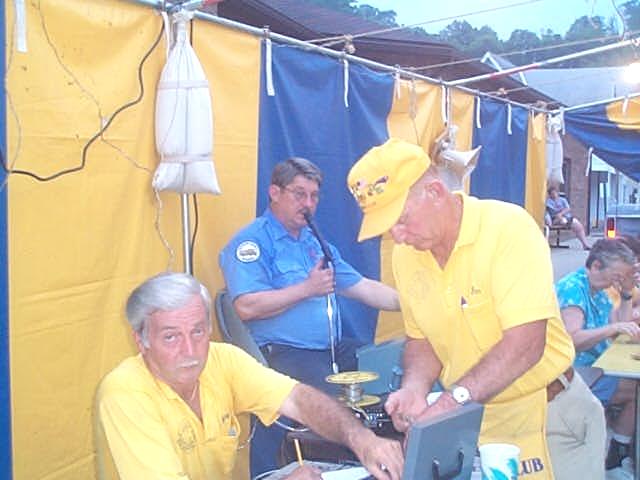 Lions calling bingo
This year's festival has lots of things on the schedule, entertainment, food, crafts, competition events, car show, parade and even the return of wood chopping by Arden Cogar
Sarah Jane Lynch was selected Queen Flora XL on June 1. First Runner-up was Tia Leann Satterfield, Second Runner-up was Heather Nicole Weaver.
The Grand Parade will be Saturday, June 8 at 1 p.m. Mike Ritchie is this year's Parade Marshall.
Wood Festival Schedule of Events
Thursday, June 6
9 a.m. to 9 p.m. - Booths open, carnival, merchant drawings
6 to 10 p.m. - Gospel music on Main Street Stage. Various local groups and solo singers throughout the evening
Forgiven
Christina Webster, Amanda and Elena Boggs
Gospel Solo Hour
Friday, June 7
9 a.m. to 9 p.m. - Booths open, carnival, merchant drawings
6 p.m. - 7th Annual Miss Calhoun Pageant, CM/HS Auditorium
6 to 11 p.m. - Entertainment on Main Street Stage. Local and area talent, groups
Jennifer Nichols, Jeremy Houchin, Willard Jones and Friends
Tudors Homegrown Hits-WV Artists
Karaoke with WVRC's Toby Wagoner
Saturday, June 8
9 a.m. - Booths open, carnival, merchant drawings
9 a.m. to noon - Archery Shoot hosted by Nobe Nock Busters at the Industrial Park
9 a.m. to 5 p.m. - Quilt Show at CCCOA, 2nd Annual Car/Motorcycle Show at old CCHS parking lot
10 a.m. to ? - Volleyball Tournament
1 p.m. - Grand Parade - Parade Marshall Mike Ritchie
2 p.m. - Heartwood in the Hills Street Performance on Main Street
Paintball Tournament on old CCHS Practice Field
WV Lumberjack Championship on old CCHS Football Field with Arden Cogar
3 to 11 p.m. - Entertainment on Main Street Stage.
Country Mountaineers
Gayle Ford and Friends
Lewis County Swinging Seniors
Calhoun Choral Reflections
Prophets Thumb
Pop/Rock Band (Derek Roberts, Joey Park, Dustin Wagoner, Tyson Price)
Uppaholl'r (Harry and Jaden Beall, Mark Myers, Donnie Price and Rick Pitts)