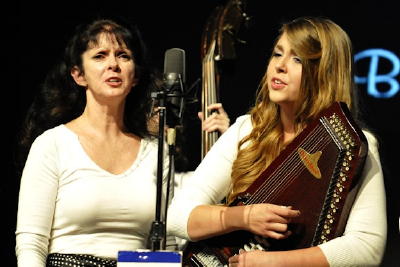 Carol Belknap (L) of Gassaway WV and Brittany McGuire of
Beckley WV, perform in the 2011 GSC Bluegrass Band Concert
Glenville, WV - The members of the Glenville State College Bluegrass Music Degree Program, the world's first four-year bachelor of arts degree in bluegrass music, are very busy performing and volunteering in and around the Gilmer County community. "Our goal is to get more involved on the GSC campus and in the Glenville community, attend more fairs and festivals around the state and abroad, and give the students in the program the total bluegrass experience," said GSC Bluegrass Music Degree Program Director Megan Darby.
This summer, the GSC Bluegrass Band performed at the annual follow-up picnic to the West Virginia Folk Festival, an event that kicks-off the planning for the next West Virginia Folk Festival held in Glenville, West Virginia in June. The band members hope to become more involved in the planning and production of this event.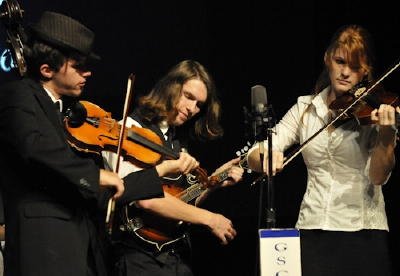 Robbie Mann (L) of Berkley Springs WV, Ryan Spangenberg
(CENTER) of Madison OH, and Trish Cottrell (R) of Glenville
WV, perform in the 2011 GSC Bluegrass Band Concert
At the beginning of the Fall 2011 semester, the band members volunteered and performed at the annual Burnsville Lake Fish Fry and Fishing Tournament on September 9th. Families and community members from Braxton County and surrounding areas gathered for a day of fun on the lake and enjoyed bluegrass music provided by the GSC Bluegrass Band. On September 12th, the band performed at the 50th anniversary celebration of West Virginia University at Parkersburg in Parkersburg, West Virginia (Wood County).
In October, the GSC Bluegrass Band members performed at Robert Bland Middle School (Lewis County), Braxton County Middle School, the grand opening of the Glenville H&R Block, and in their Fall Concert at GSC. They will be appearing in the Gassaway Christmas Parade in Gassaway, West Virginia (Braxton County) in December.
For more information on the GSC Bluegrass Band or the degree program, contact Darby at Megan.Darby@glenville.edu or at (304) 462-6342.