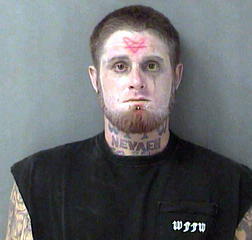 KANAWHA MAN ARRESTED AFTER GUNSHOTS - A Cross Lanes man. 30-year-old Joshua McClain (above) was arrested after deputies responded to a shots fired call at his trailer.
It happened at the Dalewood Mobile Home Park, where police found McClain with a .45 caliber handgun and nine empty shell casings.
McClain has a prior felony conviction in Florida and not legally permitted to possess any kind of firearm.
He has been charged with wanton endangerment and being in possession of a firearm.
MURDER CHARGES DROPPED AGAINST HUNTINGTON MAN - Murder charges against a Huntington man, 23-year-old Kawan Wells, have been dropped because of evidence problems.
Wells had been charged in the shooting death of 18-year-old Dekeil Eckhart at the Last Chance Bar and Grill on US 60.
Police reports said 21-year old Deandrew Fizer was shot in the leg in the shooting incident.
Now authorities are saying former Huntington police officer Jamal Goodman was shot multiple times in the legs and then was driven to a hospital in Tennessee. Police have gone to Tennessee to hear his story.
Kawan Wells remains in jail on an outstanding warrant in Logan county.