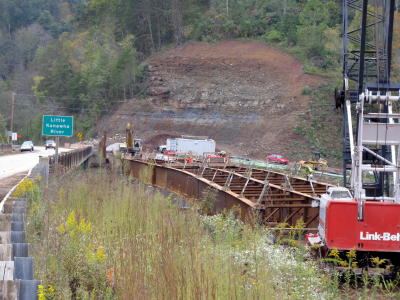 By Bob Weaver
Construction is moving along on the Annamoriah bridge on State Rt. 5 between Big Bend and Creston with an estimated completion date of October, 2012.
During the last week steel beams are being delivered and placed at the site.
A $4.75 million contract was let to Orders Construction Company in December, with an overall cost of the project given at $5.6 million, according to Cliff Essig, district bridge engineer.
The $5.6 million total includes costs of engineering, right-of-way, and construction.
The bridge, built in 1957, is currently rated as "fracture critical and structurally deficient," and is posted for 15 tons, according to Essig.
The deficiency rating is due to deterioration of the superstructure and the deck, he said.
The Annamoriah and Creston bridges were built in 1956, replacing ferry service across the Little Kanawha River.
The bridge was among the projects implemented by Cecil Underwood, the youngest governor of West Virginia.
Read the back stories about the bridge that replaced the ferry across the Little Kanawha, and why it was on the mind of Governor Underwood.
See CECIL UNDERWOOD GOES A COURT'IN - Gets Shotgun Directions In Calhoun's Backwoods
ETHEL RADER'S RIVER LIFE - "I Grew Up In Hard Times"
SUNNY CAL JOURNAL - Ferry Cross The River