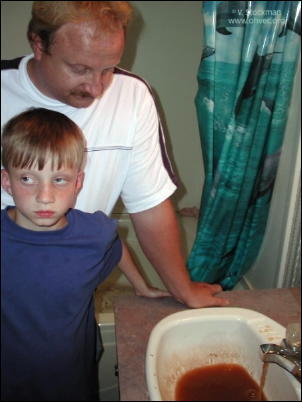 Household water burns skin on contact in southern West
Virginia household, Massey says they're not responsible
By Bob Weaver
A $35 million settlement between Massey Energy and some 600 southern West Virginia residents who say the mining company poisoned their wells with coal slurry finally has court approval.
Ohio County Circuit Judge James Mazzone signed an order Wednesday declaring the deal "fair, just and reasonable."
Massey and its Rawl Sales and Processing subsidiary admit no wrongdoing under the deal. Massey is now owned by Virginia-based Alpha Natural Resources.
The long fought battle over slurry problems is a small victory for those who have been affected, with coal corporations considering the pay-out part of doing business.
Earlier this year, coal outfits were upset that the settlement terms of a lawsuit regarding slurry leaking into water supplies leaked to the press.
Lawyers, plaintiffs and others are mum about a $35 million settlement with hundreds of people who say a Massey Energy subsidiary poisoned their wells with coal slurry.
More than 300 people gathered at the Kanawha County Courthouse earlier this year to discuss the settlement.
More than 350 lawsuits claimed toxic slurry waters leaked out of abandoned mines and polluted water in aquifers and wells.
The plaintiffs claim the polluted waters caused health problems, including chronic gastrointestinal disorders, skin cancers and major organ cancers.
See related story UNQUIET EARTH: MINGO JUDGE HEARING 700 COAL SLURRY CASES - "We're Just A Bunch Of Dumb Hillbillies"