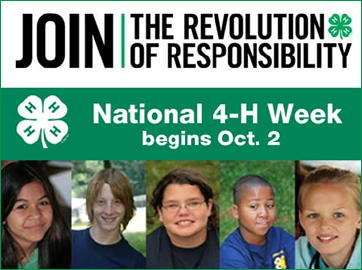 Calhoun County WVU Extension Service is proud to participate in National 4-H Week.
"One in four West Virginia youths in third grade through high school participate in a 4-H program," said Debbie McDonald, director of West Virginia 4-H Youth Development programs. "When you have that level of participation in a state it shows you that this program continues to be interesting and relevant to today's youths."
4-H is a free, youth development program open to anyone between the ages of 9 and 21. In many areas, children as young as 5 are able to join a pre-4-H program called Cloverbuds. At the other end of the spectrum, there are active collegiate 4-H clubs at seven West Virginia colleges and universities.
The program focuses on Head, Heart, Hands and Health. The overall goals are to develop life and leadership skills; building self-esteem and character; fostering citizenship and service and teaching healthy habits.
"What helps make our program unique is that everyone is welcome," McDonald said. "There is no academic or financial requirement to join 4-H. Joining can be as simple as contacting your local WVU Extension Service office."
Calhoun County currently has 9 active 4-H clubs which include:
Arnoldsburg Eagles: Crystal Brenneman...304-655-7647
Arnoldsburg Cloverbuds: Julie Beckner...304-354-9443
Southern Calhoun Cougars: Shelley Goad...304-549-4545
Mt. Zion Cardinals: David Weaver...304-354-6217
Grantsville Guppies: Sandy McCumbers...304-354-6433
Pleasant Hill Corn Poppers: Donna Yoak...304-354-6056
Pleasant Hill Cloverbuds: Tanya Cunningham...304-354-9672
Silver Spurs Horse Club: Lisa Page...304-655-8020
Teen Leaders: Kevin Cunningham...304-354-7159
UPCOMING COUNTY EVENTS (dates to be announced) 4-H Halloween Party; 4-H Up All Night (December)
If you want to belong to something that's fun and exciting, join 4-H today.
For more information, contact Calhoun County WVU Extension Office, 304-354-6332.