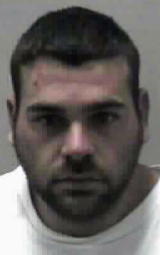 A man escaped police custody in Braxton County Friday and was caught later by Clay County officers.

Jordan Dunlap was originally arrested on two felony charges related to daytime burglary and grand larceny and was in the custody of Webster County State Police when he made his escape.

He escaped three to five miles south of Central Regional Jail on Route 15, stealing a vehicle.

The vehicle Dunlap stole contained a .22 magnum high-powered rifle.

Authorities believed Dunlap to be extremely dangerous, and issued a look-out for him in all regional counties, including Calhoun.

He now faces additional charges in Braxton and Clay County, all felonies, theft of a vehicle, possession of a weapon on school property, and felony fleeing.

Bond is now set at $150,000, with additional bond to be added to the latest charges.