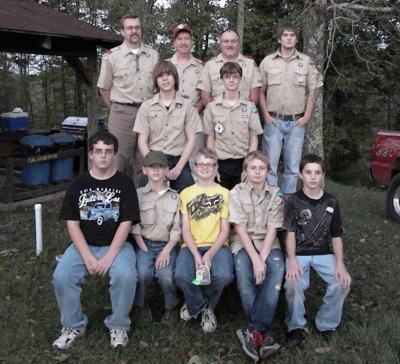 Front L-R: Travis Miles, Alec Richards, Christopher Kirkland,
Ben Frederick, Eli Stump; Middle L-R: Joseph Thomas, William
Baker; Back L-R: Assistant Scoutmaster Charles Thomas, Assistant
Scoutmaster Larry Baker, Scoutmaster Randy Ball, Jonah Law at
annual picnic to celebrate the accomplishments of the year
Submitted by Larry Baker
The boys had a very productive year with six scouts and two leaders attending the one week camp at Kootaga State Park during the summer. Plans are to have a fall camp-out very soon and hopes are to have some new members join in the fun.
Boy Scout activities are designed to develop character, teach responsibility, and build personal fitness. Troop 39 meetings are held at Knotts Memorial Methodist Church on Main Street in Grantsville at 6 p.m. on Tuesdays when school is in session. Any boy who has completed fifth grade or is at least 11 years old and is interested in joining the troop should come and enjoy a meeting with their parents or guardians.
For additional information, you may contact Scoutmaster Randy Ball at 304-354-7914, Assistant Scoutmaster Larry Baker at 304-354-7513, or Assistant Scoutmaster Charles Thomas at 304-655-7137.