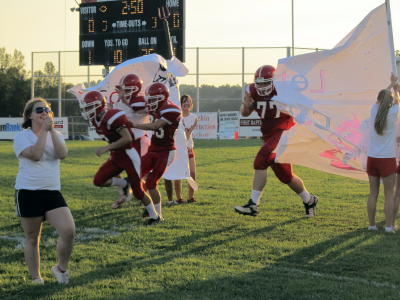 Red Devils launch 2011 season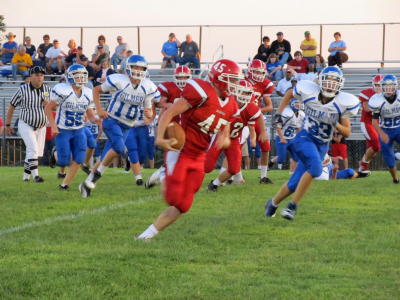 Cory Metz runs for TD in first period
By Gaylen Duskey
realfang@citlink.net
Calhoun opened its 2011 football season and the head coaching career of Michael Fitzwater with a lopsided 59-21 victory over visiting Gilmer County Friday night … and it wasn't that close. The Red Devils scored the first three times they touched the ball - twice on offense and once on defense.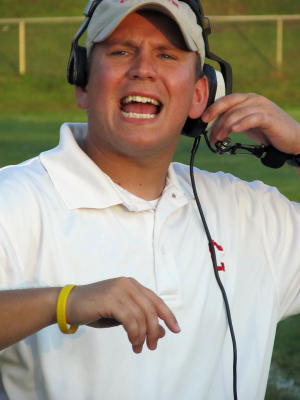 Fitzwater cheers team on, launching his coaching career
On the second play of the game Nathan Cosgrove broke off tackle and raced through the Titans' defense for a 58-yard touchdown, the first of four he would score on the evening. He also had runs of 39 and three yards and a 37 yard pass reception from Logan Moore. Overall Cosgrove had 120 yards rushing on seven carries while catching four passes for 63 mores yards.
The next time Calhoun touched the ball it was playing defense and freshman Kirkland Allen intercepted a Titan pass and outran the Gilmer Countians for a 54-yard score.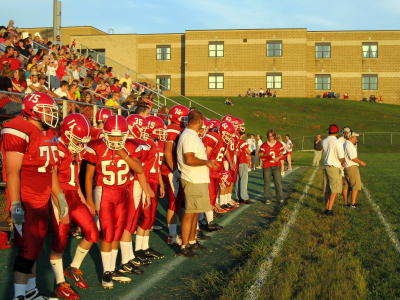 Red Devils anticipating first play
Following that Corey Metz started his scoring parade by going 39 yards for a score. His extra point kick made it 21-0 with 9:07 showing on the first period clock.
Overall, Metz carried the ball 15 times for 186 yards and two touchdowns. All his carries came in the first half as Fitzwater pulled as many starters as possible three minutes into the third period with the Red Devils holding a 59-7 lead.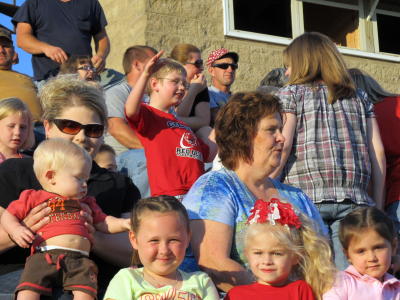 Metz also had a touchdown on a 38-yard fumble recovery. Calhoun's other touchdown came on a 65 yard pass from Moore to Shay Parrish in the second quarter.
Gilmer got two touchdowns from Dylan Montgomery on passes from Austin Cunningham and a fumble recovery by Nathan Allison. Calhoun returns to action next Friday with a home game against Ritchie County.
The Rebels opened the season with a 38-22 victory over St. Marys Friday night.