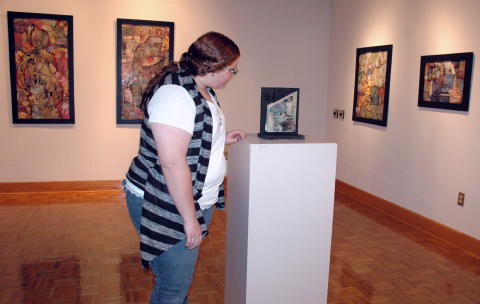 Sarah Normant, an art minor from Gilmer County, observes
works from the 'Mixed Up Worlds' collection by George Walsh
being displayed in the Glenville State College Art Gallery
Glenville, WV - The Glenville State College Art Gallery is featuring Gilmer County native George Walsh's 'Mixed Up Worlds' exhibit through October 7th.
"The intent of my art is to stimulate the eyes and the mind. I use a variety of textures, both real and implied, to create visual interest. Multiple layers and busy compositions add to the visual impact of the work. To stimulate the mind, I try to use images and symbols that contrast each other or could be interpreted in several different ways," said Walsh.
Walsh recently received an Art Education degree from Concord University and resides in Weston, West Virginia.
His opening reception will take place in the GSC Art Gallery on September 12th from 5:00 p.m. until 7:00 p.m. The show will be open to the public Monday through Friday from 10:00 a.m. to 2:00 p.m. and one hour before all GSC Fine Arts events.
For more information about this event or upcoming art exhibits, contact GSC Professor of Art Liza Brenner at Liza.Brenner@glenville.edu or phone (304)462-6346.