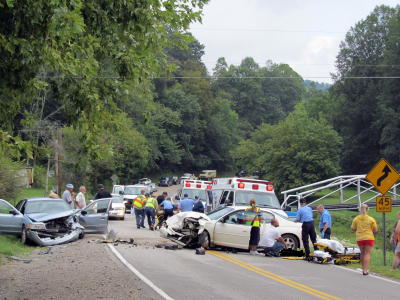 Orma crash sends three to hospital
A two-car collision sent three to the Charleston Area Medical Center following a crash on State Rt. 16 south of Orma about 1 p.m. Thursday.
At least two of the victims received serious injuries.
Sources at the scene said 25-year-old Amy Ferrell of Minnora received injuries.
Ms. Ferrell reportedly received critical trauma to a leg and foot. She was life-flighted by chopper to Charleston.
There was no report available regarding injuries to her child, restrained in a car seat.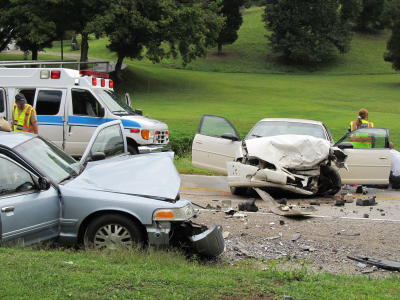 Crash caused serious injuries to at least two victims
Marnelle Sampson, about 75, of Chloe was in the other vehicle, reported to have received multiple injuries and possible fractures. She was taken to Charleston by ambulance.
The Calhoun County Sheriff's Department is investigating the accident.
The closure of Route 16 prevented the Upper West Fork VFD from responding to a trailer fire four minutes later on Upper Big Run off Nicut Road, the Arnoldsburg VFD responded to that scene.
A single-vehicle accident on Beech Road sent a car upside down in a creek bed Thursday evening.
A male and female in the vehicle were not injured.