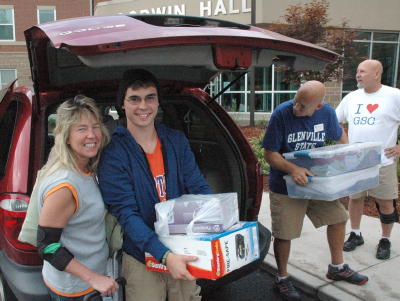 Dawn Harmon and son Cody get assistance unloading
from GSC faculty members Mark Mills and Fred Walborn
Submitted by Bob Edwards
Public Relations Department
Glenville State College
Glenville, WV - Over three-hundred and fifty full-time freshmen have arrived on campus at Glenville State College for the fall term. The weekend will be filled with orientation and social events to help the new Pioneers transition into their new environment.
The GSC class of 2015 is made up of students from thirty-four West Virginia Counties, five other states, the District of Columbia, and Canada.
Cody Harmon (above) is an incoming freshman from Wierton, West Virginia. He will be majoring in criminal justice. He was recruited to play baseball for the Pioneers after being selected to the West Virginia All-State Baseball team in 2011 as a utility player." I was planning on going to Fairmont State, but Coach Gilbert helped me decide that GSC was the place for me," said Harmon. Like many mothers, Cody's mom Dawn said she was nervous about leaving her only child. "I think the first night will be difficult. I will be wondering if he's okay and how he is getting along."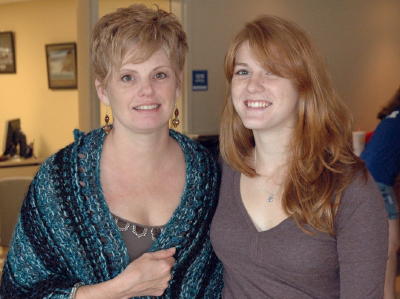 Genie and Laiken Boyd are all smiles on move-in day
Fiddle playing freshman Laiken Boyd (above) of Cameron, West Virginia came to Glenville State College because of the bluegrass music program. "I was going to attend a larger school but then I learned about the bluegrass music program at Glenville. I came down for a visit and met Buddy Grffin and knew that I wanted to come to GSC and study bluegrass," she said. Her mom Genie also feels that GSC is the right place for her daughter. "This is the absolute best place that I could leave her. She will be in good hands here. Her two sisters and brother are really going to miss having her around though."
Upperclassmen will return to campus on Sunday. Classes for the fall term start Monday morning. Fall enrollment is expected to be approximately nineteen-hundred and twenty.
On Sunday, there will be a Campus Community Picnic from 4:00 p.m. to 6:30 p.m. on the Clark Hall lawn. Community businesses, churches, and organizations are invited to set up displays to introduce and promote themselves to the students. The Community & Campus Picnic is a great opportunity to introduce these new Pioneers to what the community can offer them during their experience at Glenville State College.
Classes for the GSC fall semester will start at 8:00 a.m. on Monday, August 22.
Students may register for the fall semester at GSC until August 29th. For more information, contact the Admissions Department at www.glenville.edu or call (3040 462-6130 or toll free at 800-924-2010.