Submitted by Bob Edwards
Public Relations Department
Glenville State College

Glenville, WV - Emil Suder, Glenville State College Adjunct Professor of Business has been selected as 'The Best Teacher of the Region' in the annual Best of the Region Readers Poll by the Inter-Mountain newspaper of Elkins, West Virginia. Suder is a repeat winner of the poll having taken the top honor in 2010.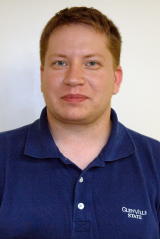 In addition, Suder (pictured left) was also named the 'Best Volunteer of the Region' by the poll, an honor that he also received in 2010.
"It is very pleasing to win these awards for the second year in a row. It is nice to know that my work as a teacher and as a community volunteer is appreciated and recognized by others," said Suder.
The Inter-Mountain has conducted the poll for the past nine years. Ballots are printed in the paper asking readers to write in their choices for the best businesses, services, and people in the region. The paper, that is published Monday through Saturday, has a circulation of about 9,500.
Suder teaches GSC business classes at the Federal Corrections Institution in Gilmer County. Prison inmates can take courses offered from GSC and earn an Associate Degree in Business.
"Teaching at the prison is a unique experience. Most of the students there have a lack of knowledge of and access to technology that makes teaching challenging. It is very rewarding to know that I can help these prisoners improve themselves and their prospects for a better life when they are released," he said.
Although he thoroughly enjoys teaching, Suder would like to someday be a dean of a college or university.
Suder is a native of Elkins. He earned an Associate Degree in Business from Davis & Elkins College in 2005 and a Bachelor of Arts in History from D & E in 2006. He received a Masters in Business Administration from the University of Phoenix and is currently working on his Ph.D. which he hopes to complete within a year.
Suder spends many hours in volunteer community service through his association with the Independent Order of the Odd Fellows.
Glenville State College was named 'The Best College or University in the Region' in the Inter-Mountain's reader poll in 2010.