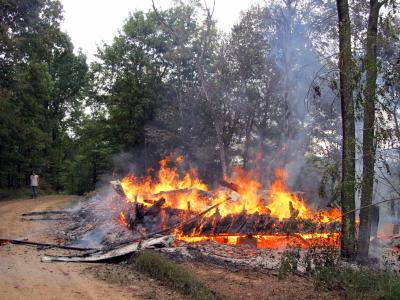 Fire Marshal's office investigating
abandoned church fire on Husk Ridge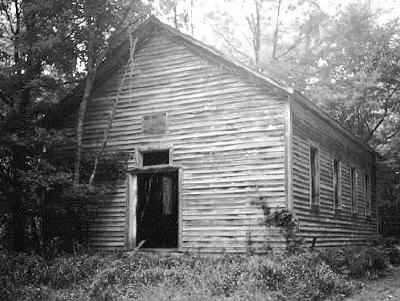 The church was built about 1950, a Southern Baptist
Church, and was open periodically through the 50s
A long abandoned church on the Husk Ridge burned to the ground Monday afternoon, a likely victim of arson.
The church had been empty of contents and stood open for many years.
Grantsville Fire Chief Greg Gherke said the WV Fire Marshal's office is investigating the fire.
During the last 72 hours, other property crimes have been reported in the geographic area.
The Mt. Olive Baptist Church was built about 1950 on the remote ridge by the Southern Baptist Church, and was periodically open for a few years during the 1950s when it was abandoned.
It replaced a building once used as a church and school known as Tuttle Hill, but locally called Snuff Box Glory.
See related story Snuff Box Glory, The Days Before Tobacco Control
The Grantsville and Arnoldsburg VFDs both had trucks in the ditch attempting to respond to the 911 call.
The church is on a remote ridge between the faded villages of Hur and Richardson.
Other incidents have been reported in the geographic area.
A report says there was an entry and theft at the Cremo Community Church Sunday, with a collection box and check stolen.
Culprits, according to church parishioners, entered the building between services Sunday.
A nearby neighbor also reported someone entered their house on Saturday, but had yet to determine what if anything was stolen.