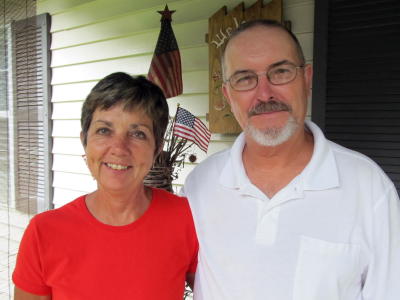 Larry and Jennifer Hall parade marshals for the
44th Annual WV Molasses Festival at Arnoldsburg
Long-time Arnoldsburg residents Larry and Jennifer Hall will serve as Parade Marshals for the 44th annual WV Molasses Festival September 22-24.
The big parade is Saturday.
The Halls, who have been married for 36 years, have lived in the village for 35 years, and have frequently donated time to help with the festival.
Larry is the son of Guy and Ollidene Naylor Hall, and Jennifer is the daughter of Buck and Bessie Bailey Helmick of Nicut. They have a son, Johnathan, who is 26.
Larry has worked for Houchin Construction Company for 30 years. Jennifer, who has worked at a number of occupations, overcame a bout with cancer in 2004.
"We consider it a real honor to be recognized," said the Halls.