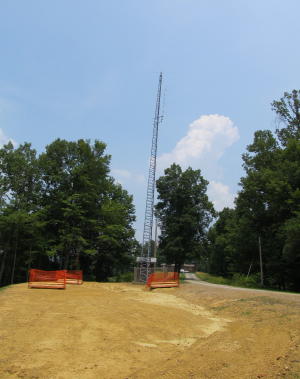 Construction has started on a high, 400-foot plus broadband-communications tower in the Five Forks-Broomstick area.
The bases for the tower are in place.
The new tower and new equipment is expected to improve communications for county services, including fire departments, police and ambulance service.
AT&T has not officially announced the installation of a cell phone transceiver on the tower to improve communications in northern Calhoun, with unofficial sources saying it is in the works, and could happen within the next 12 months.
A new 911 tower had been planned for the Letherbark area to fill radio gaps in that area and on the lower West Fork, but a new broadband tower being erected on the hill behind Spencer's Walmart is expected to provide improved coverage, according to Calhoun's 911/OES Director Kathy Wood.
Another tower at Floe is expected to improve service in Washington District.
The statewide broadband system is a communications network in which the bandwidth can be divided and shared by multiple simultaneous signals.
"It is an always-on high speed connection to the Internet, allowing large amounts of data transmission. The new broadband tower is also expected to bring Internet to local schools and agencies, and could possibly bring broadband to area residents," said Wood.
The project provides opportunity to communicate on the state Interoperability Radio Project.
West Virginia has several radio tower sites currently in use, and will rapidly be adding more.
"To simplify, the IRP system works similar to cell phones. It will use multiple towers to communicate, unlike our current system that requires the responder to reach a specific tower," Wood said.
"Our goal is better communications ensuring the safety and well-being of our citizens and emergency responders," she said.
With Calhoun's E-911 addressing and mapping having been completed, a county E-911 map book has every road location-dwelling mapped, and a map book has been supplied to every emergency vehicle in the county.
Wood has said 911 funds are being used to purchase new mobile radio equipment for county responders.
If you have 911 addressing questions, contact Gary Buchanan at 304-354-0911.