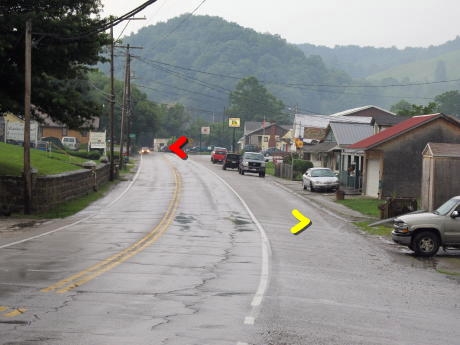 Stabbing suspect Roy Curtis Forquer reportedly stopped a
truck belonging to Greg Butler at the upper end of the
village of Arnoldsburg (red arrow) stabbing him, then
continued down US 33-119 West where he was taken to the
ground by two males (yellow arrow) and held until police arrived
By Bob Weaver
UPDATE - A criminal complaint against Roy Curtis Forquer, Jr. of Salem, age 31 according to Central Regional Jail, says that Arnoldsburg resident Justin McKown took a cell phone photo of Forquer after he fled the scene of the alleged stabbing of Greg Butler, and transmitted the photo to Kayla Eller, the victim's girlfriend, who identified the photo as that of Forquer.
Eller was in Butler's truck when the incident happened.
McKown and other Arnoldsburg residents restrained Forquer until Trooper First Class S. E. McCullough arrived.
The officer "obtained a mirandized statement from from the defendant, who advised he was drinking alcohol and could not remember much about the incident."
Forquer is also listed by corrections officials as a parole violator.
ORIGINAL STORY - Greg Butler of Beech, who was stabbed Sunday night in the Village of Arnoldsburg by an assailant unknown to him, is recovering in a Charleston hospital.
His condition was described as not life-threatening.
Family members said Monday night Butler received a stab wound through his rib cage, and could be released from the hospital provided there are no complications.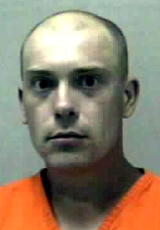 State Police charged Roy Curtis Forquer, Jr., age 31 according to Central Regional Jail, of Salem, with malicious assault. He is being held in Central Regional Jail, on a $30,000 bond.
Butler and his girlfriend were traveling west into the main drag of Arnoldsburg (US 33/119) when Forquer allegedly came into the highway, causing Butler to stop his truck, after which the accused reportedly began pounding on his vehicle and attempting to enter it.
Butler, while resisting his efforts was stabbed, with the suspect allegedly attempting to enter the truck on the passenger side, occupied by his girlfriend. She managed to lock the door.
Butler was taken to Roane General Hospital by private vehicle, and then transferred to Charleston Area Medical Center.
Witnesses at the scene said Forquer proceeded to walk west on the highway, and a short time later he was taken to the ground by two males, who held him until police arrived.
Sources reported to the Herald that Forquer was at a nearby company picnic held by Ron Lane, Inc. and allegedly had engaged in one or more fights with individuals attending the event.
The report said he left the picnic on foot and began to walk down US 33-119 in Arnoldsburg, apparently seeking a ride out of the area, stopping the Butler vehicle.
Trooper First Class S.R. McCullough is investigating.
The incident was reported at 9:45 p.m. by people at an Arnoldsburg church, who had been conducting a vacation bible school in the center of the village.
See UPDATE: STRANGE STABBING IN ARNOLDSBURG - Victim Stabbed In Rib Cage, State Police Arrest Roy Curtis Forquer