UPDATE - State Police in Calhoun have arrested Roy Curtis Forquer, of Salem WV, age 31 according to Central Regional Jail, charging him with the malicious assault of Greg Butler of Beech. Forquer is in Central Regional Jail, with $30,000 bail posted.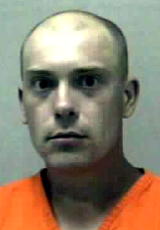 Forquer (left) allegedly stabbed Butler in the rib cage Sunday night in Arnoldsburg.
ORIGINAL STORY - State Police responded to Arnoldsburg Sunday night, investigating the stabbing of a man.
Sources at the scene indicated a man who had been attending a company picnic at Ron Lane's park, reportedly was walking down US 33-119 in the center of the village near Houchin's Fabric Shop, when he went into the highway and began slamming his fist on a passing truck.
The driver of the truck, identified as Greg Butler of Beech, in his 20s, was then allegedly stabbed in the ribs by the man.
Butler was taken to Roane General Hospital in a private auto. Butler's girlfriend, who was in the truck, was not injured.
Sources close to the incident say Butler was not acquainted with the man, those sources indicating the suspect reportedly engaged in one or more fights at the company picnic before he walked down the highway, not confirmed.
Arnoldsburg residents allegedly chased the man down following the stabbing, bringing him to the ground and restraining him until police arrived.
Trooper First Class S.R. McCullough has reportedly taken the suspect into custody.
The incident was reported at 9:45 p.m. by people at a church, who had been conducting a vacation bible school in the center of the village.
Police have been busy most of Sunday responding to domestic calls and fights.