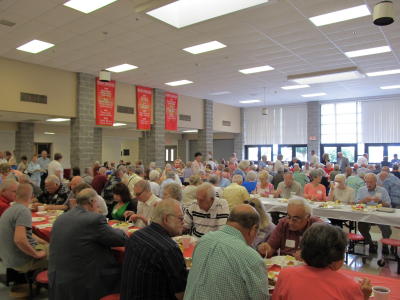 Alumni returned to remember their old high school days
By Bob Weaver
About 300 returned Saturday to the 24th annual Calhoun County High School Alumni Reunion at Mt. Zion.
It was enlightening to hear class representatives from years gone by about the low price of bread and gasoline and memories of their school days.
Von Yoak, Class of '41 (70th Anniversary Class) recalled that during his school years, Calhoun County High School may have been the only school to win a football game 1-0 against St. Marys, an impossibility with football scoring. It was a forfeiture agreement reached between the schools after a problem surfaced.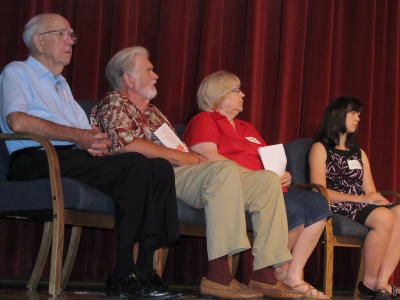 Honor class speaker (L to R) Ivy Von Yoak (1941); Loyd "Sonny" Wright (Alumni President, 1955); Honor class speaker Diane Mullin Sams (1971); Alumni Association scholarship recipient Victora Vineyard (2011)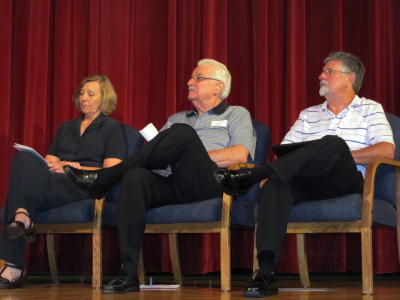 (L to R) Calhoun Middle-High School principal Karen Kirby; Honor class speaker Dean Hupp (1951); Honor class speaker Roger Huffman (1961)
Dean Hupp, class of 1951, said "Calhoun high grads have exhibited the ability to do what they need to do over the years."
Roger Huffman, class of 1961, kept the audience laughing, recalling tales of his high school years, introducing the Red Devil water boy with "the golden toe," Bob Huffman (Class of 1953, whose football story appeared in Sports Illustrated. Diane Mullins Sams, class of 1971, spoke for her classmates, "If you remember hearing Bible reading and prayer over the intercom every morning, you might be from the class of 1971."
Alumni president Loyd Wright (class of 1953) welcomed the alumni.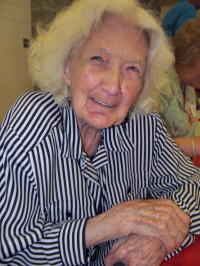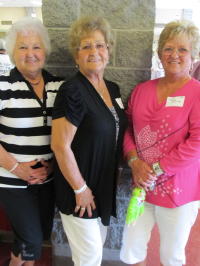 Although a couple registered from the class of 1936,
Dora Shaffer Starcher of Chloe (Class of 1937) was the
oldest alumni attending; the Heiney girls (L to R) enjoy
the reunion, Grace Heiney Wilson (1954), Eleanor Heiney
Ciarcia (1950) and Louise Heiney Newbrough (1959)
Calhoun Middle-High School principal Karen Kirby stood in for superintendent Roger Propst, who was absent because of the death of his daughter.
Following a luncheon, several classes had special reunions.