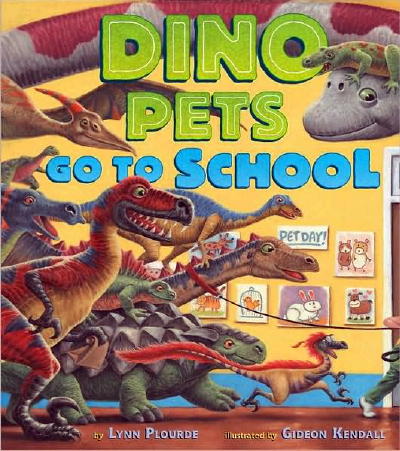 Dino Pets illustration by Gideon Kendall
New York artist, illustrator, animation designer and musician, Gideon Kendall will be at the Calhoun County Library Tuesday, July 19, at 2 p.m. to read his most recently illustrated book "Dino Pets go to School".
Gideon has been a guest artist at Heartwood in the Hills on many occasions and is well-known to the Calhoun County community. If you have never met Gideon this is a great opportunity to do so and see the original oil paintings he executed for the first "Dino Pets" book.
In 2001 Gideon published his first children's book "Littlebat's Halloween Story," written by Diane Mayr and published by Albert Whitman & Co. Since then he has illustrated several other picture books, most notably "Dino Pets" and "Dino Pets go to School" (Penguin/Putnam, 2006 & 2011 respectively).
Gideon has also illustrated several middle-grade novels including the Seems series for Bloomburg and the Underworld Chronicles series for Sourcebooks.
Gideon has illustrated articles and record covers for companies such as The New York Times, Puma, Children's Television Workshop, Scholastic, Geffen and College Music Journal. He has exhibited his artwork at a variety of galleries including Ethan Cohen Fine Arts and PS122 in New York City.
Gideon lived in Calhoun County as a young boy and attended Brooksville Elementary School and Calhoun High School. Gideon and his wife, Julie Peppito, also an artist and frequent guest artist at Heartwood, and their son, Milo , reside in Brooklyn. For more information about Gideon and to see his artwork visit his website www.gideonkendall.com