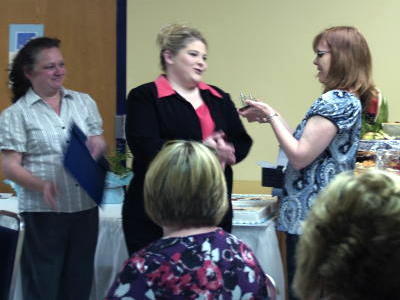 Pictured (L-R) Laura Marks RN, Trudi
Anderson RN and Kim Houchin C-FNP
Submitted by Barb McKown
In an effort to promote National Nurses Week, the first annual Nurse Excellence Award dinner was held in May.
Each year, National Nurses Weeks is celebrated during the second full week in May. This year, nursing supervisors at Minnie Hamilton looked for a way to honor those nurses who truly portray the characteristics of the nursing profession. A memo was generated through the hospital seeking nominations by way of essays that told of the nurse's special abilities that made them stand out.
The theme of the awards banquet was "One Person Can Make a Difference," with a special reading by Laura Marks, Acute Care Nurse Manager. The announcer for the evening was Steve Whited, Chief Operations Officer with guest speakers Dr. Suresh Balasubramony and Jean Simers, President of the Board of Directors. Other special guests were Board members Ron Blankenship, Harold Carpenter, and Kathy Frederick.
Nurses receiving awards were: Trudi Anderson, RN; Darlene Bell, RN; Jennifer Bradley, RN; Heather Carter, LPN; Tiffany Davis, RN; Whitney Hacker, LPN, Cheri Lovine, LPN; Judy Miller, MA; Jo Ann Parsons, RN; Natasha Shock; and Denise Starcher, RN. Receiving the Certificate of Appreciation was Lee Ann Newell, RN.
Director of Nursing Kim Houchin would like to say a special thank you to all the nurses and aids at Minnie Hamilton Health System for a job well done.