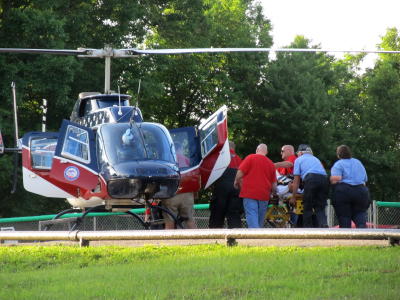 Brian Leo Huffman, about 21, formerly of the Big Bend area, was discovered by motorists lying on the pavement on Rt. 16, just north of Jackson Hill between Five Forks and Big Springs, Thursday evening.
Emergency personnel said he had head trauma and was unresponsive.
He was life-flighted by chopper from Pleasant Hill Elementary School, reportedly to Charleston Area Medical Center, his condition serious.
Sources at the scene said Huffman probably fell from a moving vehicle, indicating it was unlikely he was struck by a vehicle.
Although a number of people were at the scene, the exact cause of the injuries was not learned.