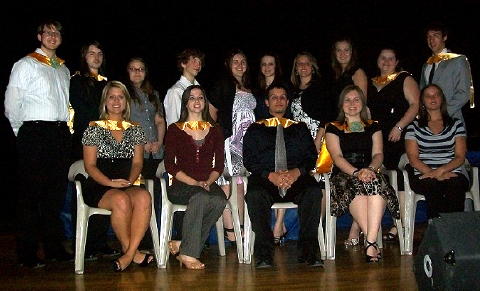 Front (L-R) Ashley Houchin, Karissa Reip, Stewart Fitzwater,
Michelle Hall, Rochelle Gerwig; Back (L-R) Joe Overbaugh, Chris
Cunningham, Allison Gumbarvic, Jean Blair, Danielle Lancaster, Sarah
Lane, Jessica McPhearson, Jordan Mace, Jessica Wood, Zach Hanshaw
Not pictured are, Tyler Bennett, Victoria Vineyard, Bronson Clark
Submitted by April Dawson
The Mu Alpha Theta induction was held in May at Calhoun High School.
New members include, seniors Tyler Bennett, Christopher Cunningham, Jessica Wood; juniors Jean Blair, Allison Gumbarevic, Danielle Lancaster, Sarah Lane, Jordan Mace, and Jessica McPherson.
Current members and officers are seniors Heaven Cain, Bronson Clark (Vice-President), Stewart Fitzwater, Michelle Hall (Treasurer), Zach Hanshaw, Ashley Houchin, Joe Overbaugh (Secretary), Karissa Reip, Victoria Vineyard (President); junior Rochelle Gerwig (Reporter).
Mu Alpha Theta is the National High School and Two-Year College Mathematics Honor Society with over 88,000 student members by June each school year in more than 1,800 schools. Mu Alpha Theta is dedicated to inspiring keen interest in mathematics, developing strong scholarship in the subject, and promoting the enjoyment of mathematics in high school and two-year college students.