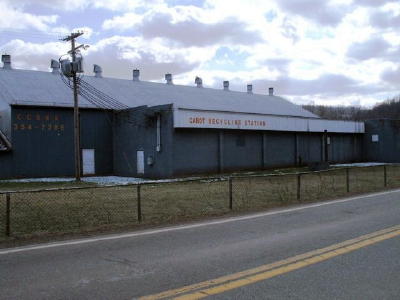 Cabot Recycling Station - located 2 miles west of Grantsville on Rt 5
Submitted by Tom Degen
Executive Director
Calhoun County Solid Waste Authority
Cabot Recycling Station started accepting glass bottles and jars for recycling on May 19th.
Only bottle and jar glass is being accepted; window glass or tempered glass will not be allowed. Tempered glass is glass that can take high heat, like baking dishes, coffee pots, and glass doors for ovens and wood stoves.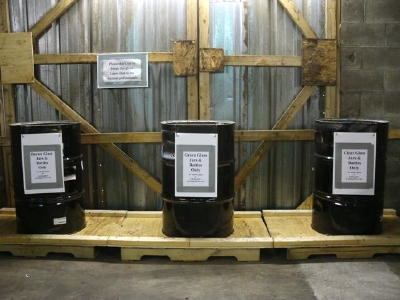 Recycling drums are marked for different colored glass
Bottles and jars should be sorted by color - clear, green and brown. At Cabot Recycling Station there are 55 gallon drums labeled for each color.
Recyclers do not have to break their glass, in fact Cabot Recycling Station would prefer that they did not break their glass. Cabot Recycling Station staff has the proper equipment to safely break glass.
Since moving to its present location 2 miles west of Grantsville on Rt 5, Cabot Recycling Station has increased the types of materials they accept for recycling. They started by accepting paper, cardboard, #1 and #2 plastic, steel and aluminum food cans. Household batteries were added soon after, followed by electronic devices in 2009. Now glass bottles and jars are being accepted as well.
All of the above items can be recycled at Cabot Recycling Station 24 hours a day, 7 days a week.
On Tuesday and Thursday from 8-4 and Saturday 8-noon, Cabot Recycling Station buys aluminum cans and nonferrous metals such as copper, brass, sheet and cast aluminum, radiators, and lead acid batteries.
For more information call 304-354-7786.