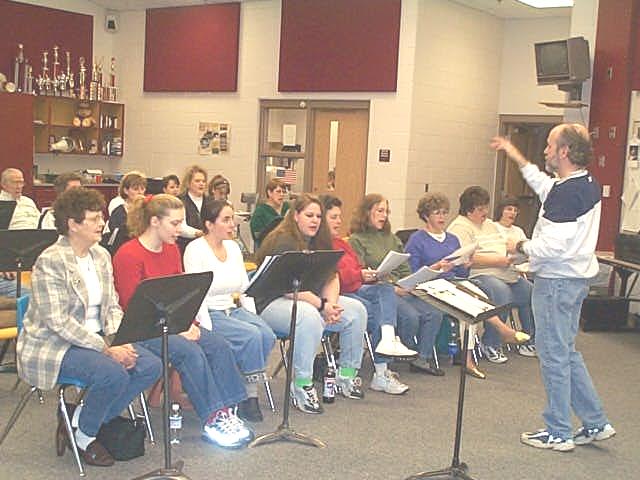 Harry Beall directs choir practice
Musician and Calhoun High Band Director Harry Beall has come full circle becoming the director of Follies 2002, with a new beginning tonight for the long-running Calhoun musical and dance event. The Follies unfortunately disappeared from the scene a few years ago.
They return tonight for the first of three bright and shinning performances in the CM/HS auditorium.
Beall said in 1966 he entered the 7th grade. "I was a very average, very scared little boy. I had already begun to have interest in music (It is in the family line) so I joined the CHS band."
"Very soon after that I met Joe Wilt, the band and choir director, and he recruited me for the choir. I didn't know it at the time, but it was to change my life forever ." "I was soon participating in every aspect of the music department and the year's most significant production, 'The Follies.' I was in solos, quartets, Madrigals, Vandalias and skits. This gave me confidence and self-esteem that I would never have had otherwise."
"What seems like a thousand years and a million experiences later, I was hired to be the director of 'The Follies.' I feel this has been a great opportunity and an even great responsibility."
"The opportunity was to bring back 'The Follies' and the responsibility was to make a difference in the lives of young people."
Beall said his part-time involvement in the county's music programs has led to a return to school and a desire to be more involved in music education.
"In working with the young people involved in the band and the 'The Follies,' I have now come full circle. Everything I have ever done and every experience I have ever hand has led me here, a hand much greater than my own," said Beall.
Beall says his reward is the soul stirring light of participation and achievement he sees in the eyes of young people. "It gives me satisfaction I have never known," he concluded.