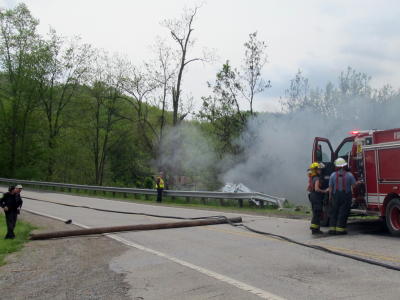 Truck clips pole, crashes through guardrail and lands over embankment ...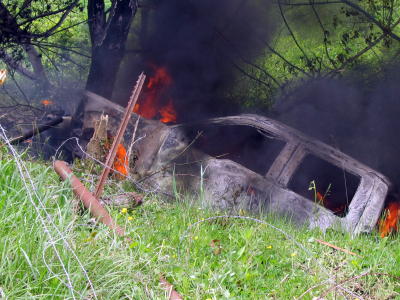 ... erupting into flames, followed by numerous explosions, injuring one
A truck clipped a telephone pole on Route 16 just south of Arnoldsburg, Tuesday, crashing through a metal guardrail and bursting into flames, injuring at least one person.
Early reports indicated Allen Carpenter of Arnoldsburg was thrown from the vehicle, likely on impact with the telephone pole or metal guardrail, but Sheriff Allen Parsons said that could not be sustained.
Sheriff Parsons said, "It appears Issac Paul Bell was the driver of the truck."
Police said both Carpenter, owner of the vehicle, and Issac Paul Bell, 21, managed to escape the burning truck, with the flames causing multiple explosions.
Bell, whose current address is New Martinsville, was indicted Tuesday by a Calhoun Grand Jury for accessory before the fact of burglary and conspiracy to commit a felony.
Carpenter, in his 20s, was taken to Minnie Hamilton Health System, reportedly suffering from back pain and possible other injuries. He was admitted and later released.
Carpenter was a passenger in a vehicle that wrecked a week ago at Richardson, according to Sgt. O. S. Starsick of the WV State Police.
Lawrence Harold Bell, 21, was the driver in that incident. He was arrested and charged with DUI-I, driving suspended, expired registration, and possession of a controlled substance.
2011-04-28 STATE POLICE RESPOND TO CAR WRECK AND DISPUTE AT RICHARDSON - Driver Arrested DUI