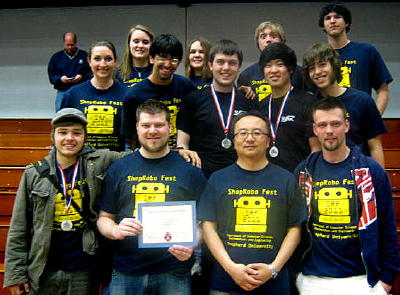 Shepherd University student Michael
Skaggs shown (center of middle row)
Shepherdstown, WV - Shepherd University students took third place in the Trinity College International Fire Fighting Home Robot Contest and RoboWaiter Competition in Hartford, Connecticut, on April 9 and 10 and were the only U.S. team to place in the senior division of the fire fighting category.
Students in the robotics competition that took 3rd Place included Michael Skaggs, a sophomore computer engineering major from Arnoldsburg WV; Matt Alt, sophomore computer engineering major from Baker WV and Matt Tark, sophomore computer engineering major from Hagerstown MD.
Michael Skaggs is the son of Joe and Jill Skaggs of Arnoldsburg, he is a 2009 graduate of Calhoun High School.
Shepherd students represented four of the 40 teams that participated in the competition from schools including Penn State, John Hopkins University, and Polytechnic Insitute of New York University. This is the third time Shepherd's Robotics Team has competed in an international competition. "I'm really amazed at the students ability to compete against students from colleges both across the country as well as internationally," said Dr. Seung-yun Kim, assistant professor of computer information sciences.
Kim said that the competition provides students with a good experience to look at other teams and how they design and build robots.
"This is a unique opportunity for students to get experience at Shepherd; it will prepare them for their career field as robotics grows in demand and popularity," Kim said.