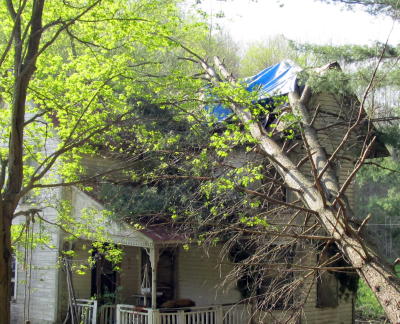 Walker Road house heavily damaged
Saturday night's storm passed through Calhoun with high wind, downing trees, damaging buildings and causing localized power outages.
A large tree fell on the roof of an historic Walker Rd. house, once occupied by Dr. Charles R. (1884-1967) and Elizabeth Conley Lamb (1888-1975) where they raised most of their 10 children.
The house is currently owned by Bill and Kathy Wood, who purchased the dwelling a few years ago.
Dr. Lamb was a well-known veterinarian for 55 years.
A number of other dwellings and mobile homes received damage, including a roof blown from a porch and a trailer moved from its foundation on the Left Fork of Crummis Creek.
Hundreds of trees went down, many across the highway, including a dozen or more on Crummis Creek.
The county's three fire departments responded to several of the incidents.