Submitted by Jean Simers

The fourth Saturday Fun Day for the 2010-11 school year was held April 16th at Calhoun Middle-High School with over 250 people attending.

The Change the Future WV grant provided a healthy breakfast for the group. After having their pictures taken, children and the parents could visit a display by Barb McKown, Minnie Hamilton Health System Outreach Coordinator, using the Glitter Bug. Participants looked at their hands under a fluorescent lamp and evaluated how well they had washed their hands.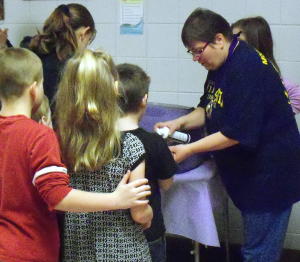 Barb McKown teaches proper hand washing
While the children were working on a craft and coloring sheets about Child Abuse Prevention month, Michelle Jones and Megan Healy-Bleichner from the American Red Cross spoke to the parents about emergency preparedness. They also provided first aid kids to parents of middle school children.
The parents also received information regarding the April 30th Take Back Day at the Calhoun County Committee on Aging - Grantsville Senior Center from 10:00 to 2:00.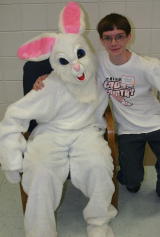 The Easter Bunny hopped into Saturday Fun Day and each child could have their picture taken with him and receive a bag of Easter goodies.
After the parents and children visited the informational tables, lunch was served by the Bosom Buddies Relay for Life Team.
Winners of $25.00 gift certificates for the Pit Stop were Adam Bailey, Lori Bailey, Becky Frederick and Bunnie Marquez.
Each child received a pinwheel which represents Prevent Child Abuse America's efforts to change the way our nation thinks about prevention, focusing on community activities and public policies that prioritize prevention right from the start to make sure child abuse and neglect never occur.