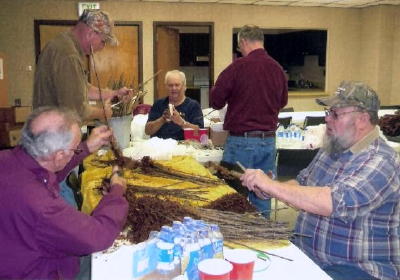 Submitted by Sharon Christ
As part of the current beekeeping class, West Central Beekeepers recently spent the day at the Roane County Library preparing 300 Apple tree plants for a grafting class on April 23.
Dale Cunningham, assisted by Brandy Brabham, WVU Extension Agent, along with several other members of WCBA balled and wrapped the tree sprouts into potting soil, to be held until time to graft with the variety of choice.
This is a new effort to bring back some of the much needed nutritional fruit tree pollen for the bees, as many of the backyard orchards have gone by the way-side.
WCBA has been very successful in the last three years in recruiting and educating new beekeepers. WCBA now has approximately 60 members and the membership increases nearly every month, attributing much of its success to cost sharing programs and grant monies being made available by organizations who recognize the importance of the Honey Bee, agricultural education and eco-friendly nutritional improvement.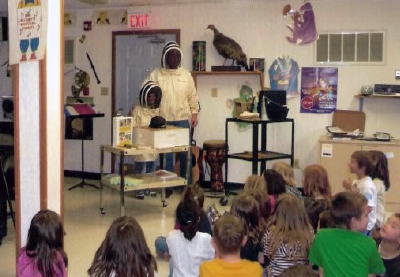 Cunningham and Brabham were also recent guest speakers at Arnoldsburg Elementary School, where they introduced the "World of Beekeeping" to several first grade students.
The April 23 meeting will be held at the West Fork Community Building, beginning at 1:30 p.m.
For more information, please contact Dale Cunningham 304-354-6916, or Sharon Christ 304-927-1775.