Submitted by April Dawson

Each year, Calhoun County High School chooses an outstanding sophomore to represent the county at the The Hugh O'Brien Youth [HOBY] Leadership Seminar.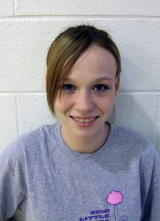 Danielle Nicole Kendall (left) has been chosen as the 2011 HOBY recipient and will attend the conference at West Virginia University June 2-June 5.
Danielle is in the gifted classes, accepted to the Governor's School for Math and Science, and is a varsity all conference cheerleader. She plans to pursue her higher education at a prestigious college, studying the fields of Criminology and Forensic Science, achieving her masters in both.
Danielle stated, "I like the constant challenge to do better, the push to always do the best I can. Being chosen as the HOBY recipient means that I will get the opportunity to learn how to become a leader in my community and how to make my community a better place."
Danielle is the fifteen year old daughter of Chuck and Crystal Kendall of Grantsville, WV.
Hugh O'Brien Youth Leadership [HOBY] is the nation's foremost youth leadership development organization, with a mission to inspire and develop our global community of youth and volunteers to a life dedicated to leadership, service, and innovation.
Every year over 9,000 deserving high school sophomores from across the country are chosen to participate in HOBY Leadership Seminars. HOBY programs continue to evolve and teach high school students social responsibility, how they can make a difference, and what it means to be a global citizen.