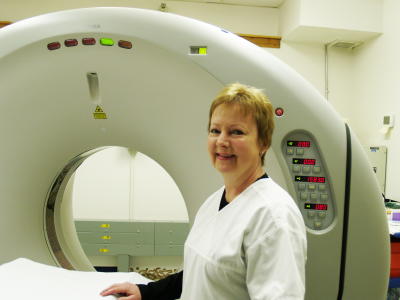 Submitted by Jim Sullivan
Minnie Hamilton Health System is pleased to announce, Radiologic Technologist, Phyllis Smith has recently passed the CT Registry.
Smith, who studied for many months to prepare for the extremely difficult registry, is a long-time member of the radiology department and is excited by the growth and additions to the department in the last couple of years.
When interviewed about her recent certification, she asked that the focus be on the entire radiology department because she is proud of the work that she and her fellow staff members accomplish every day.
The Radiology Department is staffed by Registered Radiologic Technologists. These trained professionals work on a rotational basis to provide 7-day, 24-hour radiology services. This continual coverage aids the providers at Minnie Hamilton in providing excellent health care close to home.
In the past year the radiology department upgraded both their CT Scanner and Ultrasound equipment. The new technology allows the facility to offer exams that were unavailable with the old equipment.
New additions to the department include mammography and bone density testing - services that community members had to drive previously at least an hour to receive.
The department supervisor of Radiology says, "The Administration and Board members here at Minnie Hamilton have shown a real commitment to the community in approving the purchase and addition of these services."