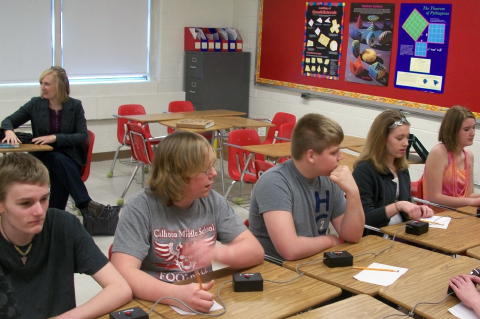 Calhoun Middle School's Academic Team (L-R) Kenneth Wolf,
Chris Lacy, Austin Metheney, Annygale Rexroad, Rebecca Houchin
By Dan Cosgrove
Academic Coach
Early Saturday morning, a team of Calhoun Middle School students headed to Edison Middle School to compete in the Parkersburg Middle School League's "Quiz Bowl" Tournament.
A team is made up of five students who compete head-to-head against another team, answering questions on every subject imaginable. From recent flooding in Australia, to mythical mermaids, math, science, history and a countless sundry of other topics, Calhoun students did an outstanding job answering questions in their first competition.
There are three rounds of questions at each level. In round one, each student has a Jeopardy type button, and must buzz-in to answer. In round two, the team is given a list of questions and may work together to write their responses. Students go back to buzzing-in for the third round.
Calhoun students were complemented by event organizers, other team coaches and parents on their performance. With most teams having years of experience competing in Quiz Bowls, Calhoun's performance in their first tournament was noteworthy, making it to the third level, and being competitive throughout the tournament. Calhoun went head-to-head against students from Blennerhasset and Hamilton Middle Schools.
Team members included 7th grade students Abigale Rexroad, Austin Metheney and Chris Lacy and 8th grade students Rebecca Houchin and Kenneth Wolf.