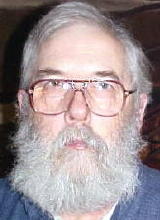 By Alvin Engelke
alvinengelke@hotmail.com

Rev. Carlos Nutter brought the message at the Burning Springs M. E. Church.

Charles Russell is now home from the West Penn Burn Center. Those calling on Charles included Sarah Middleton, Joe Lantz, Mona Fought, Cap'n Spock, Andrea the LPN, Donna Sue & Carl Ferrell. On the advice of the nurses he was taken to the Camden Clark emergency room Friday afternoon at 3 P. M. but it was the full moon and the moon was the closest to the earth that it had been for 18 years so with car wrecks and other lunar related activity at 11:30 P. M. he was taken home after his blood pressure came back up some without seeing a physician.

Spring arrived at Creston with balmy weather, flowers and singing by birds, amphibians, etc. and the arrival of new kittens. Old Mr. Tom Turkey was strutting his stuff for some of the impressionable hens (something to warm the hearts of the women's libbers, no doubt) and right in there with all the feathered admirers was a deer. Julia Joyce's daffodils are in their prime and, no doubt, ramps are growing.

Former resident Jesse Carpenter was charged with a stabbing in Parkersburg.

Someone has started a logging operation on the former T. Russell Boggs farm on Ground Hog. Heartwood Fund has been having logging done on part of the former Tucker or Ross Greathouse property on Katy's Run. The timber is being taken out on the Leason Hill near the Fluharty residence.

The tee vee folks and those in the government have been noting that it isn't fair that the Jews (Israel) have the bomb and the Moslems (not including Pakistan) don't so, as they say, "It would be fair for Iran to get one too". Perhaps, that way they can, at long last get revenge for what Mordecai & his voluptuous niece caused to happen to that selfless public servant Haman. It would seem that part of the "fundamental change, hope & change" is America's turning against old allies and cozying up to new folks such as Cuba, China, Russia, Iran, Venezuela, The Muslim Brotherhood, etc even though the Big Eared One was dragged/shamed into going along with the actions in Libya against Rev. Jeremiah Wright's friend, the dictator there.

The turmoil in Libya and the middle east in general continues to push crude oil prices higher. Local crude oil rose $3.50/bbl to $96.25.

One Wirt County resident reported he and his crew have been working 24/7 hauling water, drilling mud and base oil for EQT (Equitable), XTO (Exxon) and Antero (on the Hope/Dominion farmouts) and that he hadn't been home in six weeks but was staying in a Bridgeport motel. He also noted that there was talk they might all be sent to Texas where there were 120 rigs running and there was oil being produced. He also noted that Chesapeake was not paying their contractors. One Roane resident noted he was driving to work every day to various location in the northern panhandle and adjacent counties in Ohio & Pennsylvania.

March 15 was tax day for corporations and one fellow went early to the CPA to get the taxes and then went to the Spencer P. O. to mail the forms, etc. Since it is a "big" office they keep "bankers hours" and one had to wait 'til 9 A. M. for opening. The postal officials there said they didn't know how to mail certified letters that had stamps on them and assumed the status of federal government employees who were being pestered by the "peasants" who didn't want "meter strips" on their letters. It was noted that the lobby of the Spencer P. O. wasn't dirty, it was filthy and hadn't been cleaned for months, at the very least. The taxpayer then took the certified letters to the Millstone post office where a friendly postmistress quickly and efficiently fixed up all the letters and sent them on their way. The lady there said she was looking for business and would welcome those who wanted friendly, courteous postal service.

The "Big Boys" held a reception on St. Patrick's Day for acting governor Earl Ray. The promoters of this gala were the big out of state & foreign national energy companies that consider West Virginia to be their "colony" and, apparently, they consider "Earl Ray" to be their man. Some have said that some RINOS are also backing him in his bid to be gov. The W. VA. Farm Bureau endorsed John Perdue on the Democrat side and Betty Ireland on the Republican side. Also it was said that acting gov. Earl Ray has purchased a $2 million home in Florida if things don't work out for him.

The anti nuclear folks want to shut down the nuclear power plant that supplies New York City with a significant percentage of electricity. What is the chance that we will have to ration power in W. Va. so the folks in Gotham will not have to do without?

One reader of the Creston News noted that he felt that the writer was a "Bigot" who had crawled out from under a rock.

Anna Yates called to report, among other things, that there had been a sandstorm/dust storm in Kuwait and that the violence that has been plaguing the Arab world had spared the Kuwaitis.

There has been a lot of talk about the way the roadways are breaking up and it seems clear that repairs will be minimal as money will be used to purchase and construct a new district headquarters in Parkersburg Harold & Ginny Bennett were lamenting the condition of W. Va. 14 between Elizabeth & Spencer. The paint crew was in the Creston area Friday painting short strips on W. Va. 5 One might wonder what the mobilization fee would be for such work.