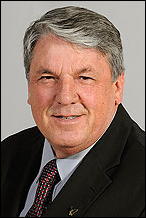 David Walker (D-Clay)
House of Delegates
WV Legislature-District 33
As we end the first session of the 80th Legislature, I would like to say that it has been my honor to once again represent the 29th District in the House of Delegates of this great state.
Over the course of these past 60 days we have taken up many important bills, passing some and setting up others to, hopefully, progress farther in future sessions.
A bill concerning a pay raise for public employees was one of the most important bills to complete legislation this session. This bill will provide a one-time salary increase for state employees, teachers, service personnel, members of the West Virginia State Police and conservation officers.
Another important bill that completed legislation will add synthetic cannabinoids, hallucinogens and stimulants, such as "fake cocaine", "synthetic cocaine" and "bath salts" to the controlled substance monitoring list. This bill will help curb the rampant use of these substances and the harms caused by these drugs.
Also passed was a one cent decrease on the state food tax. With these trying economic times, every little bit helps and hopefully this will be of some assistance to those families falling on hard times.
Unfortunately, the Marcellus Shale bill did not complete legislation. I am confident, though, that this issue will be addressed in the future and that we will pass regulatory legislation soon.
The OPEB (other past employee benefits) bill also failed to complete legislation. But we have laid the ground work for this legislation to later be considered and acted upon so that these benefits may be further negotiated in the future.
Please feel free to contact me with any questions or comment regarding these issues or any other that you feel need addressed. You can reach me by calling 304-340-3135, by e-mailing dwalker@mail.wvnet.edu or writing to my office address: Room 210W, Building 1, State Capitol Complex Charleston, W.Va. 25305.